Win at Video Slots: How to Improve Your Odds
If you are tired of losing and want to win playing video slots, there are a couple of ways how you can improve your odds. In this article we show how you can increase your chances of winning some money while playing video slots.
At first instance, you might think that it's impossible to increase your odds. After all, video slots are fully automated and spur out random results, which means that they are all about luck. Although that is completely correct, there are however a couple of ways how you can increase your odds of winning or at the very least mitigate your losses.
If you love playing video slots and want to improve your results you should certainly read on!
Play video slots and get a C$1000 welcome bonus at Casino Days!
Win more money at video slots
Most games in each and every land-based and online casino are video slots. Video slots come in all sorts of shapes and varieties nowadays. Long gone are the days of simple fruit machines, as modern-day video slots are much more advanced. Not only do they have fantastic graphics and sound effects, hugely diverse themes and an exhilarating gameplay, but modern-day slots tend to have a lot of bonus features too. Because of this no video slot is really alike and playing them doesn't easily bore.
However, trying to win some money from video slots is still a hit-or-miss affair. Some people end up being lucky, while others spend hundreds of dollars without ever winning a significant amount of money. No matter the slot you play, luck is always the factor which determines whether you will win or lose. However, there are some ways how you can increase your winning chances.
Let's discuss our video slot tips and tricks, starting with video slot selection!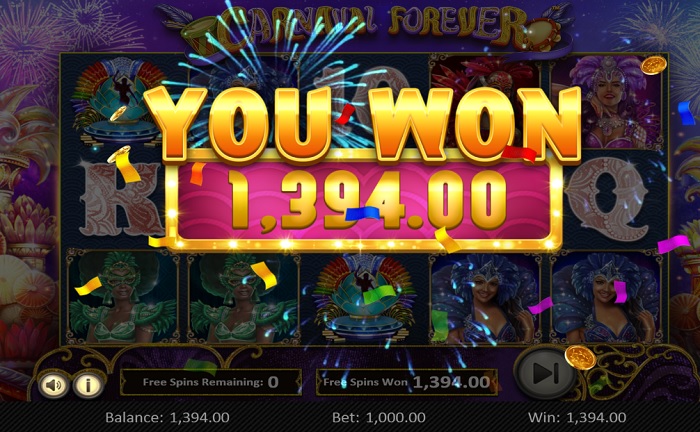 With a bit of luck, you can certainly win big on video slots!
Choose the right slot
If you want to win playing video slots it all starts with choosing the right slot. There are several ways how you can select a video slot. Many people will simply choose a slot which they like based on the theme or the height of the jackpot and other cash prizes listed on the pay table. That isn't necessarily a wrong way how to choose a video slot. After all, if you are a huge fan of sci-fi, by all means select any cool slot with an alien or UFO theme. If you are dead-set on winning the grand jackpot of $10 million, then by all means play a progressive jackpot slot such as the famous Mega Moolah and WowPot series of slots.
However, when it simply comes down to winning, you must look in an entirely different way at video slots.
The best way of doing this is by looking at the RTP rates of video slots and selecting the slot with the highest percentage.
Play video slots and get a C$1000 welcome bonus at Casino Days!
About RTP
RTP stands for Return To Player and shows the return rate of each video slot. RTP is shown as a percentage and the closer to 100% the number is, the better it is for you. If you want to increase your chances to win, you are better off selecting a video slot with a high RTP percentage.
So what does RTP mean practically?
Let's take the example of the popular video slot Starburst, which has an RTP of 96.1%. This simply tells you that of every $100 waged at this video slot, $96.1 will be paid out back to the players on average. The casino therefore takes $3.90 in profit of every $100 being bet at this slot on average. The key word here is "average". You shouldn't forget that RTP percentages are long-term statistics. If you play on a short-term basis – whether that's just for 5 minutes or 5 hours – your results may (vastly) differ from the published RTP. The Return To Player rate really is the average result of thousands of players combined.
In case you are by the way wondering how the RTP is calculated: This is done by running simulations of a video slot in which hundreds of millions of spins are being played. Of all those spins combined, the average result is then calculated! The longer you will play on a single video slot, the closer your results will be to its published RTP.
Play video slots and get a C$1000 welcome bonus at Casino Days!
Select a slot by RTP
Not a single video slot will have an RTP percentage above 100% as that would mean that the casino would make a loss on such a slot! In fact, even finding a slot with an RTP of above 98% will be highly difficult if not impossible. As a casino needs to pay royalties to the slot manufacturer and of course incurs other costs running the slot, they need to have a house advantage of at least 1 to 2% to make it profitable.
Generally speaking, a video slot with an RTP between 97 and 98% is considered to be excellent, while a slot with an RTP between 96 and 97% still gives you above-average chances of winning and are good choices. Video slots with an RTP between 95 and 96% are considered to be average, while slots with an RTP lower than 95% are generally seen as one with below-average RTPs.
Ideally you would only play at a video slot with an RTP of 96% or higher. However, there are some exceptions to this rule. Progressive video slots for example will almost always have an RTP percentage below 95%. This is because they have multi-million jackpot prizes – money which needs to come from somewhere! As you can see, the lower RTP percentage of progressive jackpot slots is mitigated by the fact that you can win huge amounts of money at these slots. However, you should only play such slots if you want to try to win that jackpot prize. If you just want to play a normal slot and are out to win some smaller amounts of money, progressive jackpot slots aren't generally the best choice due to their low RTP percentage and given the fact they generally pay out less often than other slots.
Play video slots and get a C$1000 welcome bonus at Casino Days!
Configure video slots to win more
Another good way to increase your chances to win whilst playing video slots is by configuring the slot the right way. A lot of slots can be configured before you start playing. Most slots have the option to adjust the amount of coins you want to bet per spin, the coin value, as well as the number of paylines (win lines) on which you want to play. Especially the amount of win lines you select can have an effect on your winning chances.
Playing with fewer active paylines can sometimes slightly decreases your winning chances, even though you will of course spend much less money on a spin. This is mostly the case at modern-day video slots with more complicated grids and lots of bonus features. If you play old-fashioned fruit machines with basic functions, there isn't really a difference when it comes to the amount of paylines you want to play on.
However, modern video slots which have hard-to-trigger special combos or bonus features are generally better to play with more active paylines. After all, the special bonus features or free spins bonus games are the most lucrative aspects of these slots. If you want to win a serious amount of money, you need to find a way to trigger such bonus features or free spins games within such video slots. This is something which is easier to do with more active paylines.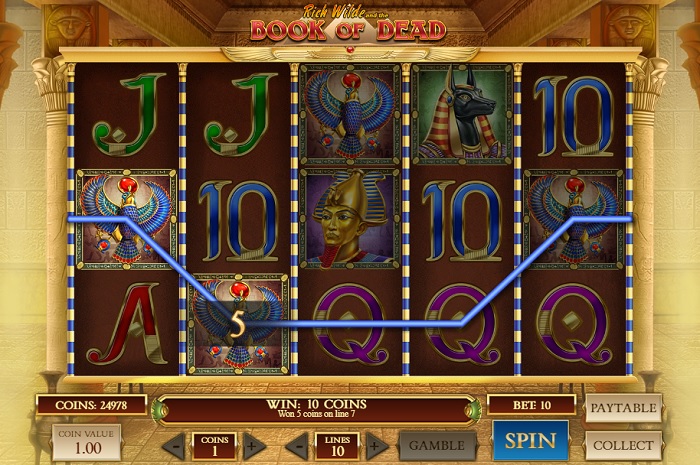 Rich Wilde and the Book of Dead is a very popular video slot.
Bonus-buy: A way to win more at video slots?
Some video slots have a bonus-buy feature. The bonus-buy feature is some sort of a side bet, as it allows you to buy access to the free spins bonus feature straight away instead of having to wait until the moment you have hit enough scatter symbols on the slot. On average, the video slot bonus-buy option will cost you around 80 to 100 times your normal bet size, although this is of course dependent on the slot you play.
Especially high rollers love the bonus-buy function as it allows them to bet amounts of up to $5,000 or more in one go. However, even low budget players will be able to use the bonus-buy feature by lowering their normal bet size. If you normally bet $1 per spin but can't afford the bonus-buy option of 100x your bet size at $100, you might be able to afford it by lowering your bet size to just $0.01 as the bonus-buy will then just be a dollar as well.
We have written an entire guide about the video slot bonus-buy feature, so if you want to know more about it do make sure you check it out! What we want to highlight here is the fact that such a bonus-buy feature can be beneficial. Most slots that have a bonus-buy feature will have adjusted RTPs for this option – and most often the RTP rate is higher than during normal play! If you play a slot with such a bonus-buy feature, you are well-advised to check the information tab and look up the RTP rate. Don't be surprised if you find out it will be higher for the bonus-buy feature!
Play video slots and get a C$1000 welcome bonus at Casino Days!
The best online casinos for video slots
At High Rollers Casino, we have made an overview of the best online casinos in Canada. All of these online casinos are fully licenced and welcome Canadian gamblers as well as players from dozens of other countries in the world. If you want to learn more about one of these casinos, simply read the reviews. In each review we list the pros and cons of each online casino. We also discuss the reputation of each casino, the available payment methods as well as all the bonus offers.
If you want to win at video slots, these online casinos really are worth checking out!
All these online casinos feature a great collection of video slots. Whether you are looking for progressive jackpot slots, penny slots, Megaways slots, old-fashioned fruit machines or all the latest releases from the world's top game designers, you will find them all at these online casinos! Make sure you don't forget to claim the welcome bonus if you sign up at any of these online casinos.
Play video slots and get a C$1000 welcome bonus at Casino Days!
Conclusion
If you want to win at video slots and increase your odds there are a couple of ways how you can do so. Although nobody can guarantee you a win as this will still always be down to luck, there are a few ways how you can improve your chances and mitigate your losses.
In this article, we outlined several tips which will hopefully help you on your way to a win playing video slots. First of all, you should always check the RTP rate of a video slot and think about what you want to achieve. Slots can be very different not only in theme and gameplay, but also in how often they pay out, the height of pay-outs and of course the house advantage.
It's also a good idea to configure a video slot to your liking. Although playing on less active paylines might lower your total bet, it isn't always advisable. Often, more paylines means better chances to unlock the bonus features in a video slot, which could certainly help you on your way to a win!