Roulette Dictionary: All Important Words, Phrases And Terms In The Game Of Roulette
In this special roulette dictionary you can find the meaning behind the most important words, terms and phrases which are used in the exciting casino game of roulette.
French origins
Given the French origins of roulette, there are quite a few foreign-sounding words which you might not be familiar with, but which are quite important to know if you want to play this game. We therefore recommend you to browse through this list to make sure you have heard all words, terms and phrases described below at least once.
Are you looking forward to play an exciting game of roulette at an online casino? On our website you will find a lot of roulette information such as an in-depth explanation of the game rules, odds and some tactics and betting patterns which you may use during the game. Our website also has a list of recommended online casinos where you can play roulette. At most of these online casinos, you can take advantage of a welcome bonus if you decide to register for an account and deposit some money to play with. Good luck – or as the French say – Bonne Chance!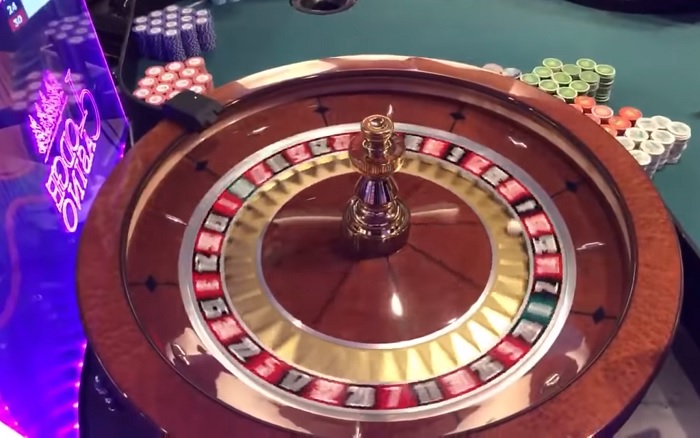 American roulette: American roulette is a version of roulette which besides a single zero (0) also features a double zero (00) on the wheel and board. The house edge of this game is 5.26%.
Biased: A skewed roulette wheel which gives different results and makes some numbers come back more often. Many of the stories of players who have won big money on roulette you will find online either feature players who have found such skewed roulette games, or involve croupiers or casino bosses sabotaging the wheels and working together with a handful of players to win money. Remember that in trustworthy (online) casinos the roulette wheel is not biased and regularly checked by regulatory authorities. Given the house edge it is therefore simply impossible to win money on a long term while playing roulette (although short-term wins are certainly possible!).
Croupier: The casino employees who supervise the roulette table. These employees ensure that the ball is released in the wheel and that all bets are paid out after the winning number is known. If you want to buy chips and take a spot on the table to play, you have to get the attention of the croupier.
Column: There are three columns on the roulette playing field on which you can bet, with each column containing 12 numbers each. The column bet pays 2 to 1.
Play Roulette at Lucky Days Casino and Claim a €100 Welcome Bonus!

Dolly: The dolly is a glass marker that will appear on the winning number. The croupier places it on it the table after the ball has stopped on a number in the wheel and the result of the game is known. All other chips are discarded and the bets on the winning number under the dolly are paid out to the lucky players.
Double zero: The double zero is the green number with two zeros (00) in a game of American roulette. European and French roulette, on the other hand, only feature a single zero (a green 0) and therefore have slightly better odds for the player.
Dozen bet: The dozen bet is a bet on twelve numbers at a time. Like the column bet, it pays out 2 to 1. You can bet on three different dozens, including the first dozen (mentioned as '1st 12' on the roulette table – a bet on any number between 1 and 12), the second dozen ('2nd 12' – or any number between 13 and 24) and third dozen (3rd 12 – any number between 25 and 36).
En prison: In French roulette there is a special rule called En Prison. If you put an even money wager (single bets) such as betting on red, black, odd, even, high or low, then half of your bet will remain on the table if the ball lands on zero. In the next turn, you will be given the option of getting half of your original bet 'out of prison' by guessing the correct result. If you are also wrong twice, the full bet will be lost. It's basically a free second chance which you get, which increases the odds you have as a player. Therefore, the odds at French roulette are slightly more advantageous than European roulette and American roulette.
European roulette: One of the most popular roulette variants is European roulette, and it is played with a wheel featuring a single zero (0). The house edge of European roulette is 2.70% – making it more advantageous to play than American roulette which besides the single zero also features a double zero (00) on the wheel, which raises the house edge to 5.26%. French roulette with the "en prison" or "la partage" rule offers a house edge of 1.35% and is also the best option to choose if available.
French roulette: French roulette is a game version based on European roulette. However, the names (terms) of bets are always given in French. Some of the best known terms in use are Cheval (split bet), Colonne (column bet), Orphans (refers to 3 specific numbers 6, 34 and 17) and Orphelins (refers to a group of numbers on a section of the roulette wheel). There are also bets such as Transversale (street bet), Voisins du zero (bet on group numbers next to zero) and Sixainne (six line, or line bet). Sometimes this is also called the double street. Although knowing the French terms and phrases is an advantage, it is not a necessity in order to play French roulette as most of the rules and bets are the same as European roulette.
House edge: The house advantage or house edge is the mathematical advantage the casino has over the player in a game of chance. It is expressed in percentages of each bet and shows how much money the casino expects to make in the long run (on average). On a single zero roulette wheel, the house edge is 2.70%. This means that with every bet of 100 euros, the player would lose 2.70 euro on average. Of course, this number is calculated in simulations and data over thousands and thousands of players who in total played millions of rounds. It doesn't say anything about the short term prognosis. You can bet 100 euro and lose all in one go – or put it on the winning number and get a 35:1 payout netting you 3,500 euro. Everything is possible in the short term! There are different roulette variants with a different house edge. Make sure to play roulette variations with the lowest house edge for the best odds.
Play Roulette at Lucky Days Casino and Claim a €100 Welcome Bonus!

Inside bets: Inside bets are bets on any of the numbers on the roulette wheel. These are the numbers from 1 to 36, but also the 0 (and 00 in American roulette). These bets pay out more than bets on the outside of the playing field – 35 to 1 to be precise.
La Partage: The rule 'La Partage' is one that you can only find in French Roulette – and not with European or American roulette. It basically means that the player loses half of his bet and takes the rest back if the ball lands on zero if the player has bet on single odds. It is slightly different from the en prison rule where half of the bet remains for the next turn. Due to these advantageous rules, French roulette has better odds than European and American roulette.
Mini roulette: A roulette version available at some online casinos. This game is played with a smaller wheel that only features the numbers 1 through 12, as well as a 0. The payouts are therefore different too. In addition, with Mini Roulette you often get half of all losses back when the ball hits zero in a style similar to the La Partage rule in French roulette. This ensures that the house edge is almost similar to the traditional game of roulette, making mini roulette a fun game to try out!
Orphans: On the French roulette tables you will find the term "orphans". This refers to three specific numbers on the wheel. Although these numbers are different on the playing field, these are contiguous numbers on the roulette wheel. With orphans you bet money on numbers 6, 34 and 17.
Orphelins: The orphelins are similar to the orphans bet. You can bet on multiple numbers at the same time so that you win money on a full section of the wheel if the ball lands on it. For players who like to increase their chances, it is ideal to use these types of bets in the game of roulette.
Outside bets: Bets placed on the outside of the playing field of the table. These are bets on red or black numbers, on odd or even numbers, or on high or low. For many players, these bets are ideal when it comes to trying out betting patterns and strategies.
Pockets: The pockets are the compartments of the roulette wheel in which the little ball will eventually fall. The ball is thrown into the wheel and eventually comes to a standstill in one of these pockets, which is then the winning number. The roulette wheel features the numbers from 1 to 36, as well as a single 0. American roulette wheels also have an extra pocket with a double zero (00). Such zeros are always coloured green, while half of the numbers from 1 to 36 are coloured black, and the other half red.
Play Roulette at Lucky Days Casino and Claim a €100 Welcome Bonus!

Six Line: The six line is an available bet at roulette where you bet money on two rows of numbers on the roulette playing field. These contain six numbers. This bet traditionally pays out 5 to 1.
Split: A split bet is a bet in which the player places a chip on the line between two numbers. This bet pays 17 to 1. In the case of a split bet, the numbers must always be adjacent on the playing table such as a bet on the numbers 1 and 2 at the same time, or the numbers 1 and 4.
Straight up: A bet on a single number. This bet pays out the most money in roulette if you guess the correct number. Keep in mind that at the same time, chances of succeeding are obviously also smaller. This single number bet pays out 35 to 1.
Street: A bet in which the player bets on three numbers at a time. The chip must be placed on the edge of a row. This bet pays out 11 to 1. You can for example bet on a street of the numbers 1-2-3.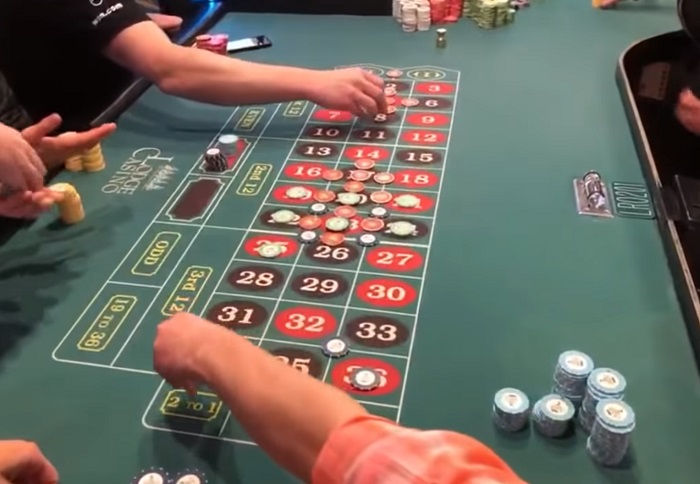 Play roulette now
Having described most of the words, phrases and terms in roulette, you can now proceed on your roulette adventure! If you are new to the game, why not try out the game for free first? There are lots of internet websites and online casinos where you can play roulette for free using fake money or credits. You don't need to register for any account or deposit and wage your own money. This is an ideal way to get some practice before you start betting for real.
If you do want to bet for real, have a look at our list of recommended online casinos! All of these casinos are fully licensed and legit, trustworthy places to play your favourite casino games. Be sure to read our reviews to find out about the pros and cons of each online casino so you can make an optimal decision which casino suits your needs best. Most casinos hand out attractive welcome bonuses to newly registered players, so make sure to check out what kind of welcome package you might be able to receive!
Play Roulette at Lucky Days Casino and Claim a €100 Welcome Bonus!