The Most Popular Online Casino Games
Curious what the most popular online casino games are at the moment? In this article you can learn more about the hottest casino games!
The world of online casino gaming is constantly changing as new games are released on a weekly basis and technologies keep improving. It's not only the casino games themselves that keep on changing. Also the preferences of casino players change over time. What was hot in the early 2000s is not necessarily equally popular now.
In this article we take a look at the most popular online casino games in the year 2023. What are the biggest hits among casino players in the world these days? What are the current trends in the world of online casino gaming? We will try to answer all these questions for you!
Sign Up at Casino Days and Claim the C$1000 Welcome Bonus!
Popular casino games
The popularity of online casino games can vary depending on a lot of different factors. One of those factors is age. Young casino players in their 20s can have different preferences than elderly casino players.
History and culture are other defining factors. Because of this you can see a clear regional difference when it comes to the most popular games. Some games are widely popular in China but not played at all in casinos in the US or Canada. There are also differences between casinos in North America and those in Europe when it comes to the popularity of certain games.
As the gambling culture in countries such as China or India is so different than in the western world, we won't touch those topics. Instead, we will focus on the overall most popular games in online casinos in North America and Europe.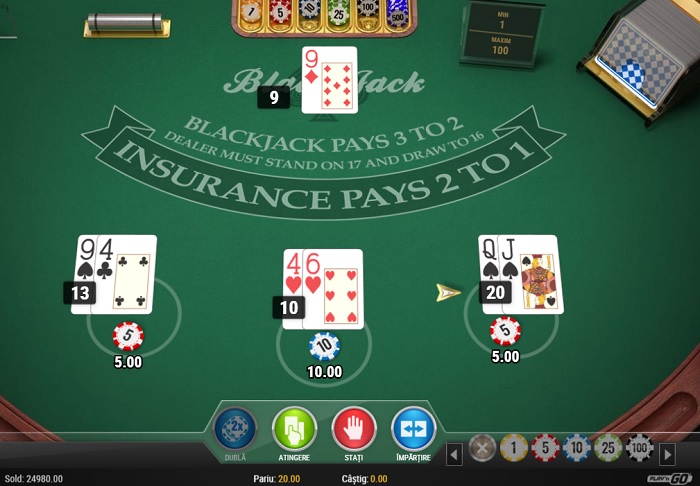 Casino game trends
There are some clear trends visible when we look at what kind of casino games are popular in 2023. First and foremost, there is a massive shift towards the live casino. Although virtual casino games are still popular, many gamblers are making the switch to the live casino as they find the gambling experience to be more exciting and immersive.
This means that blackjack fans are increasingly trying to hit 21 on a live casino blackjack table and that roulette players get their kicks at one of the many different variants of live roulette. The same trend is visible among baccarat and poker players too.
Another trend we spotted is the increased popularity of retro casino games. This trend can be seen in two different ways. First of all, players are slowly rediscovering old casino video slot hits. Think for example about older slot games like Rich Wilde and the Book of Dead or even titles like Starburst or Rainbow Riches that are making a comeback in many casinos.
Secondly, we can see that many different software studios are launching new retro games. These include simple fruit machines as well as modern video slots with a retro theme. If you have always loved playing slots with a more simple design or liked all those old-school cherry, Liberty Bell and BAR symbols on your machine, you will certainly appreciate this casino trend!
Sign Up at Casino Days and Claim the C$1000 Welcome Bonus!
Different kind of games
Of course, many players simply play the kind of casino game they have always preferred. If you are a life-long blackjack player, chances are that you aren't suddenly interested in retro slots. A die-hard video slot fan might not have much interest in a game like live casino baccarat.
That's why we have also outlined some trends within certain kind of casino games. After all, it's equally interesting to find out what the latest video slot and table game hits are. Let's look at a few popular casino games, starting with video slots.
Video slots
Video slots never ceased to be popular and still form the mainstay of most land-based and online casinos. The trend of the last five years of the use of innovative and interactive features, such as mini-games, cascading reels, and bonus rounds, is continuing. These features provide players with a more immersive gaming experience and can increase their chances of winning.
We have already talked about the increased popularity of retro slots. However, these are not the only kind of popular slots in the casino. Megaways slots continue to be popular, for example.
Jackpot slots are certainly captivating the minds of casino players as well. Newspapers and websites in countries all over the world have written about the massive jackpots won by slot players. This makes players curious about these video slots as they want to try if they might be able to win a multi-million jackpot! The most popular jackpot slots in the casino are games connected to the WowPot or Mega Moolah jackpots. For example, the game Poseidon Ancient Fortunes gives you the chance to win the massive WowPot jackpot which currently stands at a whopping 22 million euro!
Sign Up at Casino Days and Claim the C$1000 Welcome Bonus!
Roulette
Many roulette players are currently rediscovering the thrills of this game in the live casino. Indeed, with a professional croupier leading the game and the sheer excitement and true casino vibe of a real roulette table, playing live casino roulette is as close as you can get to playing in a land-based casino.
Although traditional roulette variants like American, European and French Roulette are popular in a live casino, it's the new game versions that are stealing the show. Especially the roulette games in which the classic French game has been turned in a real live casino show are popular. Take for example Evolution Gaming's XXXtreme Lightning Roulette. This game has a pay-out of up to 2000x your bet. That's a lot higher than your normal roulette game!
Games like Lightning Roulette mix the best of roulette with the best of live casino gaming, which is why they are so popular among gamblers.
Sign Up at Casino Days and Claim the C$1000 Welcome Bonus!
Live casino games
Although live casino games in general are highly popular among gamblers at the moment, there are also some clear trends visible here. For many years, traditional table games like blackjack, roulette and baccarat were the biggest hits in the live casino, with game shows playing second fiddle.
In the last couple of years we already saw a big surge in the popularity of live casino game shows. This was mainly due to Evolution Gaming launching Crazy Time in 2020, which was its most entertaining, bonus-packed game ever. Since then, live casino game shows have even managed to captivate the minds of die-hard table game gamblers.
And what's not to like about live casino game shows! The latest live game show releases are not only wild fun to play, but also truly immersive. You really feel like you are part of the game. After all, you don't simply play a live casino game show, you participate in it! As these live casino game shows have some entertaining game hosts you are assured of an amazing online casino experience.
Sign Up at Casino Days and Claim the C$1000 Welcome Bonus!
Hybrid games
Another live casino trend is the advance of hybrid casino games. As the name suggests, these live casino games combine aspects from different kind of games. We have already seen the example of Evolution Gaming's XXXtreme Lightning Roulette, which is basically a combination of roulette with a live casino game show. There are similar live casino games too in which table games such as blackjack or baccarat are added to a game show.
One of the latest trends we can see in hybrid live casino gaming is the combination of video slots and game shows. Again, Evolution Gaming is the trendsetter here. Games like Gonzo's Treasure Hunt and Evolution Gaming's new release of Extra Chilli Epic Spins are great examples of this. You basically play a video slot in the setting of a live casino studio. However, if you manage to unlock one of the bonus games or special features, you will find that these games are played in the immersive environment of the live casino studio instead of inside the video slot itself.
We predict that such hybrid live casino games will become extremely popular among gamblers in 2023 and the years ahead.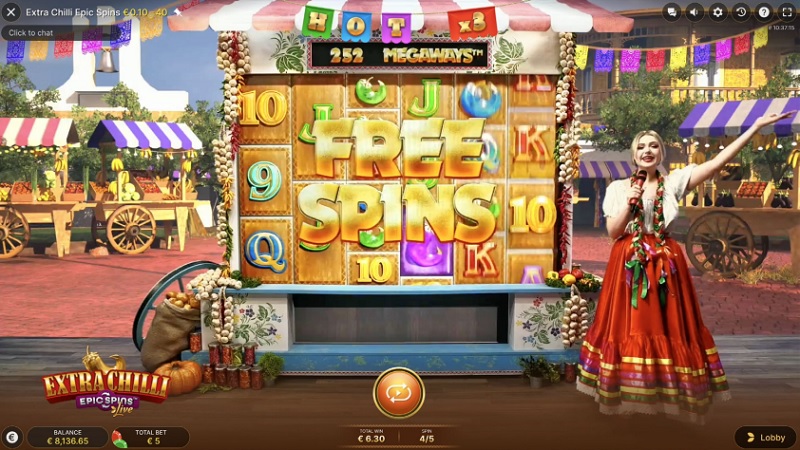 A game of Extra Chilli Epic Spins – a newly released hybrid game which combines the best of video slots with the best of live casino game shows.
Where to play the most popular casino games
At our website High Rollers Casino, you can find an overview of the most popular online casinos in Canada. These casinos are especially suitable for high rollers who like to bet big. If you love high stakes gambling and are looking for high-limit slots and table games, you will love these online casinos. All of them feature an excellent collection of video slots and table games, with special tables with higher limits for high rollers and VIP gamblers. Of course, all of these casinos also have a state-of-the-art live casino with games from software studios such as Evolution Gaming.
All online casinos listed on this website are fully licenced by national gambling authorities. You can thus rest assured that all these casinos are safe and honest. Your money and personal data are safely stored and all casino games you play are fair. Of course, the casino will always have a house advantage, but you will always have a honest shot at winning.
If you are not familiar yet with some of these casinos, do read the reviews we wrote about them. In our casino reviews, you can learn more about the pros and cons of each casino. We discuss the game collection, welcome bonus and other casino bonuses and payments and withdrawals. Besides this, we also take a look at the quality of the customer service.
Although it is a personal matter which of these casinos is best suited for you, you can rest assured that all of them are reliable, quality betting sites where you can get your casino kicks.
Sign Up at Casino Days and Claim the C$1000 Welcome Bonus!
Conclusion
It is difficult to define which casino games are the most popular as it depends on the personal preference of the player. Young players often have different opinions than older players. Gamblers in the United States or Canada prefer completely different games than those living in China.
However, we can identify what the current trends are in online casino gaming. At the moment, live casino gaming is extremely popular among all sorts of different gamblers. This includes both live casino table games as well as casino game shows. The trend to watch in the coming years is the advance of hybrid live casino games, in which for example games like roulette or video slots are introduced in a live casino game show.
Apart from such cool, modern casino game technologies, there is also a trend towards retro gaming. Retro slots and fruit machines are getting popular again. Many software studios are launching a new series of fruit machines as well as modern video slots inspired by such old games.
Take a look at our overview of recommended online casinos for Canadian gamblers if you want to try out all these popular games!
Sign Up at Casino Days and Claim the C$1000 Welcome Bonus!