How Will the Future Online Casino Look Like
One question which we are asked a lot is how the online casino experience will look like in the future. It's a highly interesting question on which several casino experts have already shared their thoughts in the last years.
Although nobody can of course promise what the future will hold, it is fun to discuss about it. After all, we can make an educated guess based on the current industry trends and knowing what kind of new technology is currently being developed. Indeed, some exciting new experiences will enrich the online casinos of the future, making it a whole different world compared to today's websites.
Below you can find our predictions for the future. Curious to see what the future of gambling will be? Make sure you read on!
Sign up and claim the massive C$3000 welcome bonus at Playamo!
The online casino of the future
Online casinos have already come a long way in the last two or three decades. What began with very simple websites hosting basic games is now a state-of-the-art multi-billion dollar industry. Indeed, there is more money going around in the world of online gambling than in land-based casinos!
If you would tell a person in the early 1990s about the current state of online casino gambling they would be shocked about all the advances. After all, who back then would have predicted a new online experience like the live casino? If you compare games from the 1990s with the current crop of games the difference is equally staggering. Just like in computer gaming, also casino gaming has developed a lot. With amazingly realistic and highly detailed graphics, fantastic sound effects and an overall thrilling gaming experience, playing a casino game really is fun. And with a bit of luck you can win some money too!
When you look back some 20-30 years and think about all the improvements, you start to realise that in 20 to 30 years from now online casinos really can be a completely different than they are now. Lets take a look at what we think will be the biggest technological developments!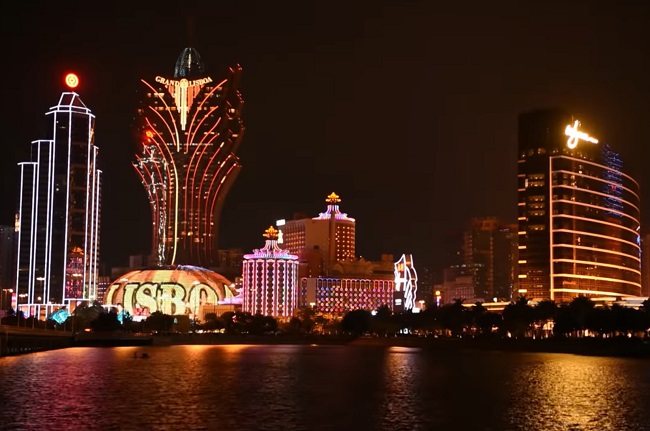 Casinos in Macau, China.
New casino technology
By far the biggest developments to the future online casino experience will have to do with advances in technology. Two of these new technologies immediately jump to mind:
– Augmented reality
– Virtual reality
Of these two technologies, virtual reality is by far the best known. Virtual reality (VR) is basically a virtual, computer-generated environment which appears to be real. If you wear a VR helmet or headset, it seems that you can really walk and interact in this virtual world!
Although augmented reality (AR) is comparable when it comes to technology, there are some stark differences. In virtual reality you will be inside a completely artificial world. In augmented reality you are still in a real-world environment. However, there will be virtual (artificial) elements added to this real-world environment. For example, an app or computer program could project the image of a celebrity or a new piece of furniture inside your very own living room. Although the images of the celebrity or the new piece of furniture are artificial and fake (as they are virtual projections and don't exist in the real world) it almost looks like they are really there!
Sign up and claim the massive C$3000 welcome bonus at Playamo!
Virtual and augmented reality casinos
When it comes to augmented and virtual reality, there are endless of possibilities in the world of online casinos. The online casino of the future could be a completely virtual one! Just like you walk through the rooms of a casino in Las Vegas, you can now walk through an entire virtual casino, interact with virtual characters or take a seat behind a video slot or table game.
Augmented reality is already slowly making its way to online casinos. Especially in the live casino there are already several examples of augmented reality games. One of such games is Gonzo's Treasure Hunt, a popular live casino game made by Evolution Gaming. Although you are dealing with a real-life game host who is standing in a real-life casino studio, the virtual character of Gonzo comes alive through AR technology and joins the live casino show.
We expect many more casino games – especially those in the live casino – to implement augmented reality technology in the coming years. Full virtual reality games will probably still take a few more years, while entire VR casinos might be a bit further away in the future.
Sign up and claim the massive C$3000 welcome bonus at Playamo!
Future casino games and AI
Apart from AR and VR technology, there are several other ways how casino games in the future will be different. Already in the near future we can see some interesting new developments in online casino gaming. Whether it's games which are fully voice-controlled or robots replacing human croupiers and dealers in the live casino, there are lots of possible ways how the games of the future might be slightly different from the ones we have now.
Perhaps most interesting are the advances in artificial intelligence (AI). In the future, online casinos could use AI to tailor certain games towards each and every individual player. As AI has the power to analyse the playing style and perhaps even the emotions and feelings of an individual player, games could be programmed in such a way that they will automatically alter the experience to the player's preferences. This can certainly lead to games being more user-friendly, engaging and exciting!
Of course, AI can also have some downsides in this regard, with a casino using the technology to target weaknesses in players and making them bet and lose more money. However, given that improvements in AI will go hand-in-hand with increased discussions about ethics, we don't think it will come to this. After all, also the online casinos of the future will still be regulated by gambling authorities and will have to follow national laws.
Sign up and claim the massive C$3000 welcome bonus at Playamo!
Blockchain
If you talk about future technologies, you can't get around the blockchain. We're not going to talk here about crypto (there are plenty of possibilities already to pay or gamble with a cryptocurrency at online casinos) but just about the blockchain technology behind it. Although this is probably a bit boring as it won't directly effect the gaming experience, blockchain can revolutionise the way how online casinos are run and how they operate.
If properly implemented, a casino running completely on a blockchain will be far more efficient, secure and fast. Thanks to decentralisation of every single casino aspect (games are no longer run on a central server, money remains in the individual wallets of players) it will not only be much more safe and transparent, but also a lot faster with no administrative burdens. Although gambling authorities of national governments might have a thing or two to say about the aspect of full anonymity which blockchain could potentially bring to online casinos, this technology will certainly make online casinos more user-friendly.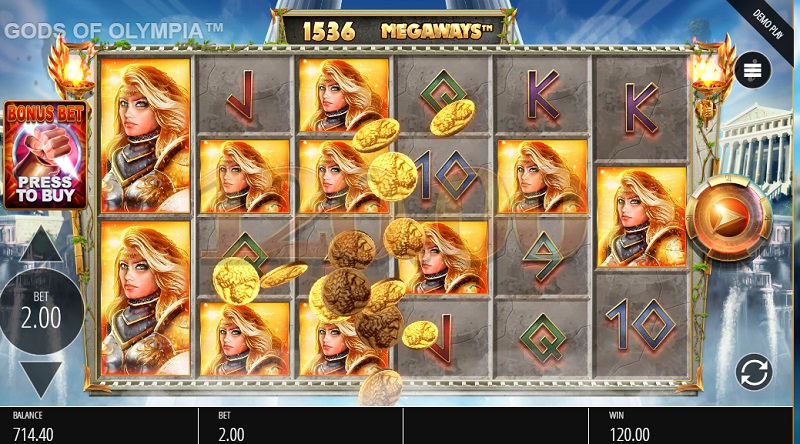 Responsible gambling
So far all of our future predictions have been about technology, most of it which is still a decade or so away. However, also in the short term we can see some clear developments! One of these developments which we think will only grow more important in the future is the focus on responsible gaming.
In many countries around the world, governments are getting more and more involved in online gambling. That's not necessarily a bad thing. After all, in many countries this meant that online gambling finally became legal. Regulation also means increased control by government authorities over the sector, making sure that casinos are safe and honest.
What we can see in many countries – from Canada to Germany and from The Netherlands to Sweden – is an increased focus by national gambling authorities on responsible gaming. The goal of these measures is to combat problematic gambling behaviour and gambling addictions. In some countries welcome bonus offers have been banned altogether. In others, advertisement by online casinos and sportsbook has been heavily restricted.
Special focus has been placed on protecting young adults. In some countries, young adults are excluded from bonus deals and these players might face additional caps and betting limits. We think that such measures will spread to more countries around the world in the future. Additionally, we wouldn't be surprised if more restrictions are placed on online casino and other kind of gambling advertisements in the future.
Sign up and claim the massive C$3000 welcome bonus at Playamo!
The best online casinos
It's impossible to predict what will be the best online casinos in the future. Even though we don't know what the best casinos will be in 10 years from now, we do know which online casinos currently rank among the best in the world! Check out our page about the best online casinos among Canadian gamblers. These online casinos welcome gamblers from Canada and many other countries in the world. Of course, all of the online casinos listed on this website are fully licenced and have a good reputation among gamblers.
We have written reviews about each and every online casino in which we list their pros and cons. In these reviews we also discuss the casino game collection, bonus deals, available payment methods and much more! If you are looking for a new online casino to play at you will surely find one in this list.
If you register for the first time at one of these online casinos you can claim a great welcome bonus! In Canada, these casino welcome bonuses can easily reach heights of C$1,500. Free spins are also commonly part of the welcome bonus package of many online casinos. Make sure you check out the current bonus deals of these top quality casinos and don't forget to claim it upon sign-up!
Sign up and claim the massive C$3000 welcome bonus at Playamo!
Online casino future conclusion
It's interesting to think of how the online casino of the future will look like. Given that we know what kind of new technologies are in the pipeline, we can make an educated guess. In our article we outlined several developments which we think will be the most important ones in the future.
The most exciting new technologies in future online casinos will be augmented reality (AR) and virtual reality (VR). Although full virtual casinos are still relatively far away, we already see AR and VR being introduced in casino games. Especially in the live casino we can already see the first games with AR technology such as Gonzo's Treasure Hunt from Evolution Gaming. Artificial intelligence and blockchain technology will also have a big part to play in the online casino of the future.
However, even though we are quite sure that most of these predictions listed in this article will come true, we wouldn't be surprised if we might perhaps missed one or two. After all, who could have predicted the live casino 20 years ago? Or how beautiful and exciting video slots are compared to the 1990s? Some developments might go a lot slower than we anticipated, while exciting new stuff we couldn't even dream about will make it's appearance in the future. Indeed, that's the beauty of the future! We might have an idea what it will hold, but there are lots of things which will come as a surprise.
Sign up and claim the massive C$3000 welcome bonus at Playamo!