Baccarat has European roots and was originally played by the upper classes and aristocracy, lending it an air of privilege and exclusivity. Today, however, you don't have to be royalty to take part in this exciting and intriguing game.
There are three popular varieties, but almost all online casinos offer the most popular, punto banco, so that's the one we will focus on here. "Punto" means player while "banco" means, you guessed it, bank. The rules of the game are relatively easy to learn, but there are many underlying strategies and moves to understand before diving in. Read on to learn more about this fascinating game.
Baccarat is loved the world over because of the straightforwardness of its rules. The objective is to guess which of three possible outcomes will take place in the round – whether the winner will be the banker or the player, or if there will be a tie. Unless there's a tie, the hand that is closest to nine is the winner. A maximum of twelve players can play at a time, with the casino acting as the banker and the highest bidder as the player.
Baccarat is played with 6 or 8 decks of cards shuffled together. The dealer deals the cards with the face showing – two for the player and two for the banker. The hand that comes closest to nine wins. Betting and winning on the player's hand doubles your bet while betting on the banker's hand pays 95% of your wager.
The live online version of baccarat offers the same excitement as a live casino on your computer or mobile device.
Baccarat Rules
The rules of Baccarat are very simple. This is a table game that is more dependent on luck than on skill, so even newcomers can jump in and start playing right away.
The king, queen and jack have zero value, the ace has a value of 1 point, and cards two to nine are worth their face value. The suits are not important – in baccarat, the numeric value of the card is the only important factor.
Calculating the total of the cards is done by adding the face values of both the cards. If a player gets a 6 and an ace, then the total is 7. The total score can't equal more than 10, so in the case of double digits, the left digit is removed. For example, if a player gets a total of 17 (and 8 and a 9), this will result in a score of 7. If one more card is drawn, and it's a 2, then the total score of the player will be 7 + 2=9, which is a "natural" and is considered a win. If the total exceeds 10, then the leftmost digit will be removed.
Purpose of a Baccarat Game
The purpose of baccarat is to guess who will have the winning hand – the banker or the player. Regardless of how many people are betting (there can be up to 12), only two hands are dealt. Initially, two cards are dealt for each hand. The total of the points in each hand will determine whether either hand will get a third card. The player's hand is dealt first. A "natural" is when the value of the card equals 8 or 9 and the player hand gets no more cards. A natural is an automatic winner, and unless there is a tie, no further cards are drawn.
If a banker draws a 7, 8, or 9, he will stand. If he draws a 0, 1, or 2, he will continue to draw. In other words, the banker's play depends on the value of the player's third card. The banker will hit on 3 unless the player's third card is an 8, on 4 unless the player's third card is 1, 8, 9, or 10, on 5 only if the player's third card is 4, 5, 6, or 7 and finally, on 6 only if the player's third card is 6 or 7.
Baccarat Game Probabilities
Baccarat has one of the lowest house advantages among casino table games, which is why those who bet on the banker must pay a 5% commission to the house on all winning bets. The player attracts a house edge of just 1.24% while the banker has an advantage of 1.06%. In the event that you bet on a tie, you attract the highest house advantage of 14.44%. It is ill-advised to bet on a tie because a tie rarely happens in a game.
The best thing you can do in baccarat is to bet on the banker at a house edge of 1.06%.
Best Canadian Online Casinos for Baccarat
Despite being a simple game, baccarat is also considered to be sophisticated. Perhaps that's what makes it so exciting! Bets are placed before any of the cards are dealt and the outcome is unpredictable, meaning that there isn't a whole lot of strategy involved. That being said, there are still things players can do to try and maximise their chance of winning.

Many players choose not to bet on the banker because it feels like betting against themselves. However, you should remember that in baccarat, the winner is the person who bets on the winning hand and not the one who plays. So, it really doesn't matter who you bet on. When playing at an online casino, you can choose between games with a different number of decks. Keep in mind that the fewer decks there are, the better it is for you.
Because it's a game based on random chance and luck, most strategies will end up losing players money. Having a plan can help you stay grounded while setting a limit can help you step away from the game before you lose too much. If you adopt a strong rule-based system and manage your money, this may give you an edge over the casino. Many online casinos allow players to set personal limits and encourage responsible gambling.
Below, we have listed our four favourite online casinos to play baccarat as a player from Canada. All these online casinos feature fast and easy payments by card, e-wallet, as well as Interac, iDebit and InstaDebit. If you play at one of these online casinos, you can also benefit from an exclusive welcome bonus!
Skip the Tie Bet
Betting on a tie means that the player bets that the result of the next hand of baccarat will be a tie between the player and banker. Although a tie wager has the highest payout, in truth, a bet on a tie very rarely bears a win. Usually, the winner is the banker because of the third card rule. In baccarat, there's an approximate probability of 9.5% for a tie – not very good odds.
Ties pay 8:1 or 9:1, depending on the casino, so if you wager one unit that the hand will end a tie and you win, you'll receive 8 or 9 more units. While this may seem lucrative and attractive, in reality, ties are rare, happening about once in every 10 hands. No matter how enticing those odds are, it's a good strategy to skip the tie bet.
1-3-2-4 Baccarat Strategy
This strategy was developed in 2006 and it works well on bets that have odds near 50/50 – perfect for a game like baccarat. It's designed to reduce the win/loss variance by only betting 4 units on the fourth bet, which preserves an overall win even if the last bet loses.
When using the 1-3-2-4 baccarat strategy, a player moves through the numbers sequence with each win. For example, if you win a hand, you move to the next step. Losing a hand means going back to the start. After you've won all four, you also return to the start. Players need to remember that this strategy is about minimizing risk and isn't limited to just baccarat. As long as the first two bets are successful, players come out on top even if they incur losses on the rest of the bets.
To sum up:
If a bet wins, you progress to the next bet in the sequence.
If a bet loses, you go back to the start.
If you win all four bets and complete the sequence, you go back to the start.
Remember, all baccarat strategies depend on some degree of luck – it is a game of chance, after all – but that doesn't mean these strategies aren't useful. The 1-3-2-4 strategy is a very simple algorithm and a non-aggressive approach that doesn't require a large bankroll. The only disadvantage is that this betting strategy doesn't actually help to win in Baccarat or in any other game of chance. It simply lets players regulate and diversify the routine of their gameplay.
The One-Sided Strategy
This strategy involves choosing a side, either banker or player, and sticking to it. While it seems simple, you shouldn't underestimate the power of this strategy. Both the player and banker, at some stage during a game, gain an advantage. This happens in approximately 8 out of every 10 shoes. This means that the side you've chosen to bet on has an excellent chance of going ahead by 1 or more units at some point.
If this strategy is used accurately, your odds of making money during 1 out of 2 shoes is approximately 3:1.
When employing this strategy, never allow yourself to lose more than 3 games in a row. If you've lost three times, stop betting and wait for your side to win again. This will be your sign to start betting on your side again.
Trend Switching
Recognizing trends that occur during a game can also be a useful strategy in baccarat. Start by recording the banker and player's wins. Pay attention to these baccarat trends:
Zigzag Zone
Play outcomes that are primarily zigzagged – wins change between the banker and player.
Streaky Banker/Player
Play outcomes that are primarily winning streaks between the banker and player.
Hovering State
A bit of a paradox, this trend means there's no actual trend breakout and the wins don't favour the dominance of zigzags or streaks. However, this is a trend in itself.
This trend-switching strategy means you switch between trend 1 and 2. So, when you've lost twice on one trend, instead of stopping and waiting for a trigger, switch to the other trend. This strategy allows players to get returns from both trends. Should you lose twice in a row, immediately switch to the other trend. For example, if you lost two times following the zigzag trend, then you need to put your money immediately on the streaky trend.
Break the Doubles Strategy
This simple strategy involves doubling your bet every time you lose. No matter how many losses you experience, hitting a win after a string of losses will lead to a gain of whatever your initial bet was. This is one of the most popular strategies for online baccarat. Since 90% of the outcomes are defined by the zigzag pattern and a combination of player and banker and zigzag streaks, this strategy really works.
Read the following points to fully understand the doubles strategy:
Most baccarat shoes will have double outcomes.
The banker and player streaks will be grouped, and these outcomes can be repeated over and over again.
Always bet on the opposite. You should follow the zigzag pattern and stick with it, i.e. P B P B P B
Set a target (preferably at least 5 wins). If you fail and you get a double, you need to adjust your betting strategy.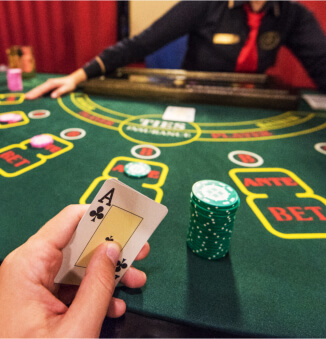 Enjoy the Thrill of High-Limit Baccarat
Baccarat is a serious passion for many millions of people. Whether you're a beginner or expert, this game offers thrill and excitement to those who play it. It's ideal for high-stakes gaming, as it's truly a game of chance and luck. Before becoming one of the most popular games in online casinos, baccarat was already one of the most popular games in the world, so it's no surprise that it's loved by high-limit players everywhere.
Enjoy maximum betting limits of up to tens of thousands of pounds and hundreds of thousands in payouts from the casinos we've reviewed for you. In addition to regular games, there are special events and tournaments in which players are given a chance to compete on a bigger scale. High-rollers, these casinos are the place to be if you are seeking a high-stakes game.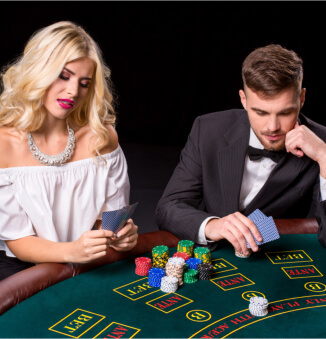 Live Baccarat Has Never Been Better!
While playing baccarat in a brick-and-mortar casino is undoubtedly thrilling, the chance to play at one isn't always possible. In today's busy world, players just don't have the time to pop down to the casinos when they feel like playing. Fortunately, today's online casinos not only have superior software to ensure ease of play but also beautiful and captivating graphics that enhance your online experience. Baccarat has been a part of online gaming since its inception many years ago, and the user experience and software have only improved since, making it one of the most enjoyable games to play.
Players can choose to play with a live dealer to feel the same excitement that a land-based casino offers. There's an added drop of excitement when you're playing with real players and knowing that it's not just a computerised random number generator behind the results. The dealers at the casinos we've reviewed are professional, knowledgeable and friendly, and they ensure a smooth and fun game.
Baccarat Through the Ages
Since it's one of the oldest casino games in the world, the history of baccarat has an air of mystery about it. The game dates back to the 14th century when it was brought from Italy to France. It came to France with the soldiers of Charles VIII, and it was in France where it took on the names Chemin de Fer and Baccarat en Banque. These original French games were somewhat different than the Baccarat we know today. The few notable changes were that the casino would bank the game at all times, making it unnecessary for players to bank large amounts of money. Secondly, the banker would control both the player and banker's hands and follow strict rules on how to play both.

The game wasn't introduced to America until the late 19th century when French and British immigrants brought it with them. As it had to compete against games like blackjack and poker, baccarat remained fairly obscure. The game was then introduced to Cuba, and that's where it got the name punto banco.
Years later, the game was brought to Las Vegas from Cuba by Tommy Renzoni, ensuring the game's success in the United States. Today, most people know baccarat as the casino game of choice of James Bond.
The game became particularly popular in China, due to its fast style, and because it's not too heavily weighted in the casino's favour. Players there rely on strategy but also on some interesting superstitions when playing, particularly the importance of the number 8. Traditionally associated with wealth and prosperity, this number's importance in the game of baccarat makes it appealing to Chinese players, further fuelling the game's popularity.
Today, the game of baccarat continues to develop, and online gaming has only added to its popularity. The latest developments are in live baccarat tables at online casinos where you can play at real tables in real time from the comfort of home.
The game that had noble beginnings rose to become well-loved around the world, not only played by royalty as it once was but by players from all walks of life.
Newcomers and high-rollers alike can enjoy the beauty of its simplicity. Uniting players against the house, baccarat brings with it an air of mystery and glamour.
If you happen to live in Canada and want to play baccarat at a trustworthy, reliable online casino, then check out one of the four online casinos below!