Mega Casino Resort Will Open Doors in Las Vegas
A new casino mega resort will soon open its doors on the Las Vegas Strip. Called Resorts World Las Vegas, the new addition to the Las Vegas Strip will open for gamblers and hotel guests on June 24.
Resorts World Las Vegas is gigantic in both the absolute size of the hotel and casino as well as when looking at the sheer numbers. The design and construction of this new resort has been underway for seven years – costing a total of 4.3 billion dollars.
Claim a €200 Welcome Bonus at Mr. Play Casino!

Three hotels
Resorts World Las Vegas has an Asian theme that is reflected throughout the massive 88-acre site. The main building is 59 stories high and has a gigantic LED display on the side facing Las Vegas Boulevard which will add a lot of extra bling to this famous thoroughfare. In fact, according to Resorts World Las Vegas boss Scott Sibella, it is one of the largest LED façades in all of America – even bigger than some of the well-known displays in Manhattan, New York.
The casino resort will in fact consist of three different hotels, all operated by Hilton. The three hotels are named 'Las Vegas Hilton at Resorts World', 'Conrad Las Vegas at Resorts World' and 'Crockfords Las Vegas, LXR Hotels and Resorts'. In total, more than 3,500 rooms are available to gamblers, tourists and conference attendees – three important groups for the hotel industry in the American gambling city. Especially Conrad's arrival to Las Vegas (Conrad is Hilton's luxury hotel brand) will be welcomed by many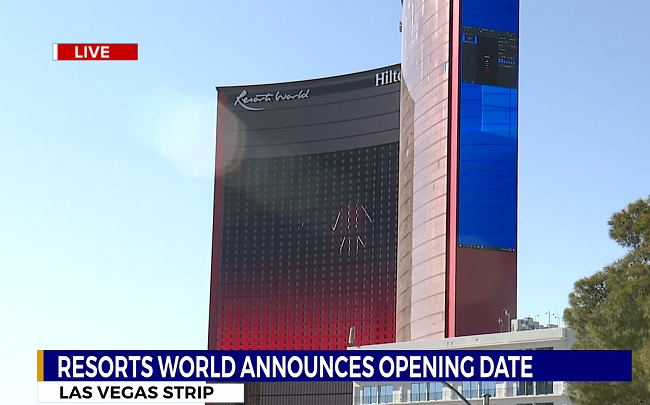 The exterior of Resorts World Las Vegas. ©Screenshot
Facilities
There will be a huge amount of facilities at the resort, including 40 restaurants and dozens of cafes, pubs and other catering establishments. There will also be several stores in a shopping mall which will be part of the resort. There will also be some large event halls that can be hired for meetings, conventions, weddings and similar events.
The swimming pool and spa area of the new casino resort is 22,258 square meters (5.5 acre) in size and will consist of 7 different swimming pools. There will also be a special concert and event hall with room for 5,000 visitors. According to the local Vegas newspaper Las Vegas Review-Journal, Katy Perry, Luke Bryan, Celine Dion and Carrie Underwood will be the possible headliners.
Claim a €200 Welcome Bonus at Mr. Play Casino!

The casino
Of course, a lot of attention has also been given to the Casino at Resorts World Las Vegas, which will be a staggering 10,870 square meters (117,000-square feet) in size. That sounds gigantic – and it is – but it's just not enough to be in the top 10 in Vegas when it comes to surface area (Wynn at 17,297 square metres – or 186,187 square feet – is the largest casino, to put it in perspective).
Still, there will be plenty of fun for the gambler in the new casino of Resorts World Las Vegas. The casino promises to use the very latest technologies to bring gamblers a modern gaming experience. What is particularly striking is the Sky Casino that will be located on the top floor of the building. According to Resorts World Las Vegas, gamblers can have a more intimate, elegant casino experience here – which will undoubtedly mean that there will be mostly some VIP and high roller tables for true high limit and high stakes gambling.
On the main floor there will however also be plenty of action for gamblers, as dozens of rows of the very latest slots and many tables for blackjack, roulette, baccarat, craps and many other games will be available. These tables and slots will have both low and high limits, so there will always be a suitable option for any gambler. The casino of Resorts World Las Vegas will also have a sports bar – the Dawg House Saloon & Sportsbook – where you can enjoy a drink while betting on sport matches. There will also be special poker rooms at the Resorts World Las Vegas casino where both individual games and tournaments will be held.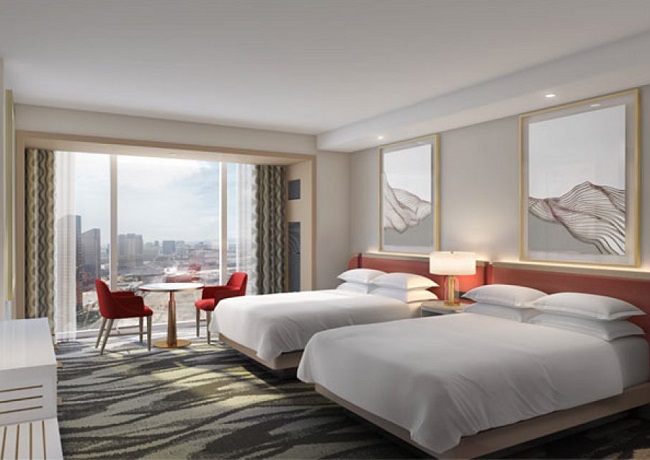 A room at the Conrad Las Vegas at Resorts World. ©Resorts World Las Vegas
Clubs
Resorts World Las Vegas is also getting two new clubs that are likely to enrich the nightlife in the main gambling city in the US state of Nevada. These two clubs are the Zouk Nightclub and AYU Dayclub. AYU Dayclub will be near one of the pools and will be partly outdoors, with a tropical Southeast Asian theme.
According to the American media, none other than DJ Tiësto will become one of the regular DJs of Resorts World Las Vegas. The Dutchman will do this together with the German DJ Zedd. Both DJ Tiësto and DJ Zedd are no strangers in Las Vegas, as both were previously the 'in-house DJ' of two other well-known nightclubs: Hakkasan at the MGM Grand and Omnia at the Caesers Palace Hotel and Casino.
Claim a €200 Welcome Bonus at Mr. Play Casino!

Opening
Resorts World Las Vegas President Scott Sibella was proud that the project is finally nearing completion and that the hotel and casino will open soon.
Sibella said: "We are filled with gratitude and excitement as we approach our opening. We hope to play a role in Las Vegas' rebound after what has been an incredibly challenging year."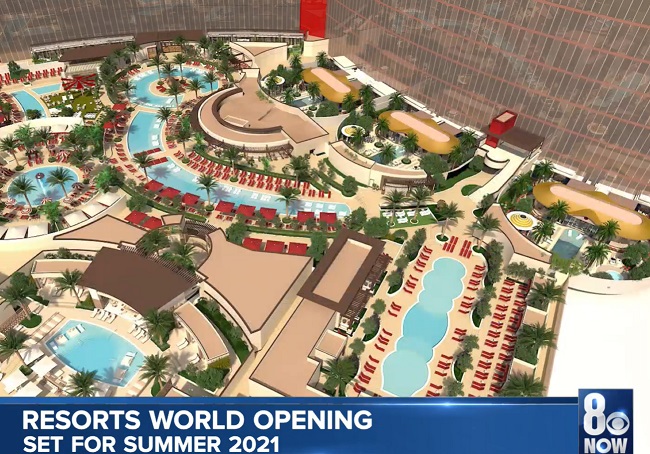 Some of the swimming pools at the new casino resort. ©Screenshot
Stardust
The new casino resort is built on the north side of the famous Strip – the nickname of the large Las Vegas Boulevard on which most casino resorts are located. Resorts World Las Vegas is located on the site of the famous Stardust Casino. That well-known casino was closed in 2006 and demolished in 2007 by the Boyd Gaming Corp, which had plans for a new casino.
Boyd spent a year building the Echelon Palace Casino on the site of the former Stardust. However, those plans were halted in 2008 when the United States entered a deep recession. In 2013 Boyd Gaming Corp sold the site for 350 million US dollars (290 million euros) to Genting Group of Malaysia.
In 2015, Genting began finishing the casino according to a new plan and construction began on Resorts World Las Vegas.
Claim a €200 Welcome Bonus at Mr. Play Casino!

New construction
Another aspect which sets Resorts World Las Vegas apart is that the hotel and casino resort is the first major new construction project in Las Vegas since the opening of the Cosmopolitan in 2010. Hopefully the opening of Resorts World Las Vegas will help to bring the gambling industry in Las Vegas and Nevada back on track after a disastrous year because of the corona pandemic.
For quite some time, the casinos and hotels of Las Vegas were closed because of the pandemic, although most businesses are now open again. However, casinos are required to operate at a maximum of 50% of their normal capacity and to observe social distancing and other corona prevention measures. Nevada Governor Steve Sisolak has set a target of a full 100% casino reopening on June 1 now more and more people have been vaccinated in the United States.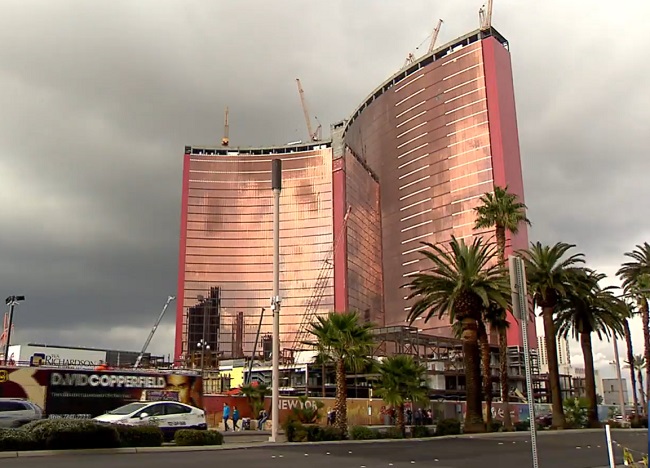 Resorts World Las Vegas will be the newest addition to the Las Vegas Strip. ©Screenshot
Fancy a bet?
Although it is currently not yet possible for most European gamblers to fly to the United States due to travel restrictions, you can always bring the atmosphere of Las Vegas to your own living room by playing in an online casino!
On High Rollers Casino we have an overview of the most popular online casinos among European gamblers. All of these casinos are fully licensed and have some attractive bonus offers for new players. We have written reviews of each online casino, so that you can determine for yourself which casino suits you best.