Macau Posts Worst Casino Revenue Decline Since 2015
The Chinese gambling city of Macau has marked its worst annual casino revenue decline since 2015 among worries about the region's stability and a Sino-American trade war, with gambling revenues of all Macau casinos combined having slipped for a third straight month as the month of December 2019 marked yet another downturn for the territory's vital gaming business.
Worst annual decline in five years
Macau, a Chinese territory with a high degree of autonomy and self-rule compared to mainland China, announced that gross gambling revenue was 2.85 billion USD in December, which marks a 13.7 percent decrease compared to December 2018. The results, which are calculated by the territory's Gaming Inspection and Coordination Bureau, is however slightly better than the estimates predicted by casino analysts who predicted a 15 percent fall in gross gaming revenue in December.
Get €100 Bonus On Your First Deposit At Betsson Casino!

Yearly results
Macau's gross gambling revenues of the entire year of 2019 are 292.5 billion patacas (the local currency used in Macau – also abbreviated as MOP) which equates 36.5 billion USD or 32.7 billion EUR. This means that 2019 marked a 3.4 percent downturn when compared to the full data for the year of 2018. Despite the bad yearly results Macau is however still the world's biggest casino destination in the world, still leaving Las Vegas in second place.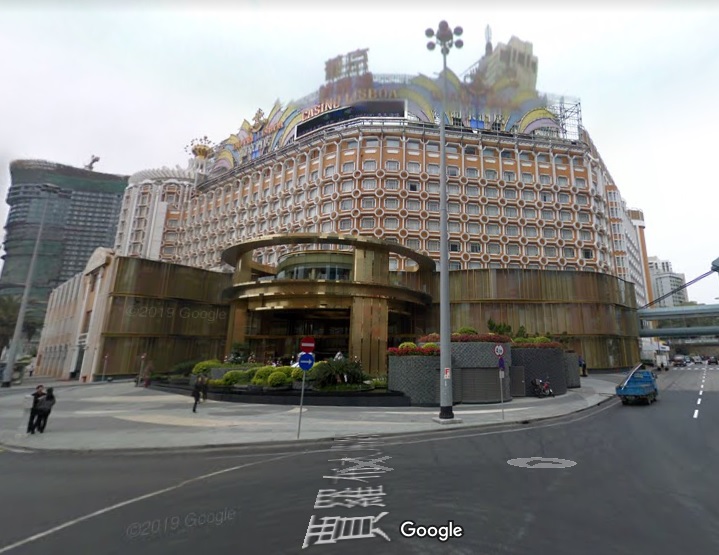 The famous Lisboa casino in Macau. ©Google Streetview
Reasons for the downturn
The bad results for December 2019 were blamed on multiple factors. Local analysts blamed a visit by Chinese President Xi Jinping to Macau as he celebrated the 20 year anniversary of Macau becoming part of China after the Portuguese handed over control of their former colony. Xi Jinping's arrival meant that the territory temporarily restricted its visa policy and freedom of travel, as well as strengthening border security.
Get €100 Bonus On Your First Deposit At Betsson Casino!

Visa restrictions
Normally, many Asian nationals as well as most European and American tourists do not need a visa when visiting Macau. The territory's policies are therefore similar to neighbouring Hong Kong, another former European colony which was itself handed over to China by the British. When visiting mainland China, tourists do normally need a visa. When both territories rejoined China, ease of access and a liberal visa policy were key demands for the British and Portuguese as well as for the citizens of the territories of Macau and Hong Kong, who profit immensely from the more liberal rules of their semi-autonomous city states compared to the more strict laws of mainland China.
Hong Kong protests
Another big factor which contributed to a bad December month – and to the entire year of 2019 as a whole – were the Hong Kong protests. According to local media, foreign visitors and high rollers especially decided to stay home instead of visiting one of Macau's famous casinos such as the Venetian or Grand Lisboa. As Macau's airport is relatively small and sees limited international service, many foreign tourists enter the territory by first flying in neighbouring Hong Kong which has a major international airport. From Hong Kong, travellers can reach Macau with ease by taking a bus or hopping on a ferry across the bay – all without the need of a Chinese visa.
Conflict with China
Even though Macau itself did not see any uprising against the Chinese government, the citizens in Hong Kong did turn 2019 into a year of protests and chaos. The protests started when the local government – which has strong ties to Beijing – tabled a controversial extradition law which could see Hong Kong citizens being extradited to mainland China to face criminal justice. Many Hong Kong citizens see the move as an attack on Hong Kong's autonomy and liberal society by the Chinese Government. Protests have frequently turned violent – with the Chinese and Hong Kong authorities blaming the protestors and Hong Kong citizens blaming Chinese provocateurs. Several times last year, protests at the airport have even completely halted flight traffic into Hong Kong.

Macau's bustling streets have low-key colonial houses and high-rise casino buildings and hotel resorts. ©Highrollers Casino
Other threats for Macau
Besides the regional disturbances in Hong Kong, there are some other serious threats with could spell further problems for Macau. Mainland China – from where the bulk of Macau's visitors come – is facing an ongoing trade war with the United States which has impacted the financial results of Macau casinos. At the same time, other competing casino destinations throughout Asia are gaining steam, especially the casinos in the south-east Asian country of Vietnam. Macau also faces challenges of the online casino making an increasing presence in Asian markets.
Promising developments
It is however not all gloom and doom for Macau as there are some positive developments which could keep the Chinese territory on the world's top casino spot for a while longer. Some new hotels and infrastructure projects are set to be completed in 2020, which would allow for a wider variety of accommodation and smoother and faster transits at the border with mainland China. President Xi Jinping however also urged the Macau government to diversify its economy and to not only bet on casino profits to boost its economy.
Get €100 Bonus On Your First Deposit At Betsson Casino!