Although video slots are often overlooked by high rollers in favour of table games, there are high limit slots where you can get your kicks.
Sure, video slots might not be the first type of casino game that comes up in your mind when you think about high stakes gambling. Most high rollers prefer table games such as blackjack or baccarat or perhaps even roulette when they visit a casino. However, there are certainly some high limit video slots in both land-based and online casinos.
In this article we take a look at high stakes gambling for high rollers on video slots. We will give you some tips how and where you can find the best high limit slots. We will also give you some playing tips that will help you get the most out of these slots!
Get C$1,600 and 150 free spins on sign-up at Mr. Play!
About high limit slots
Video slots come in all kinds of sorts and types. In our article about video slot types we already explored the most common slot categories. From classic slots and fruit machines to 3D slots, from Megaways slots to cascading reel and cluster pays slots and from jackpot slots to progressive jackpot slots, there are lot of different categories out there!
Of course, you can also categorise slots by betting limits. Perhaps no slot category is better known than the penny slots. On these slots, a single spin will only cost you a few cents or pennies only. Needless to say, these slots are ideal for budget gamblers who do not have that much money to spend.
Although high limit video slots definitely exist, there isn't really such a thing as a special, separate category of high limit slots in the same way as penny slots. You basically have to browse the video slot collection of an online casino and check the limits of each slot individually to see whether high limit gambling is possible. Most quality online casinos clearly state both the minimum and maximum bet limit on the thumbnails of each slot.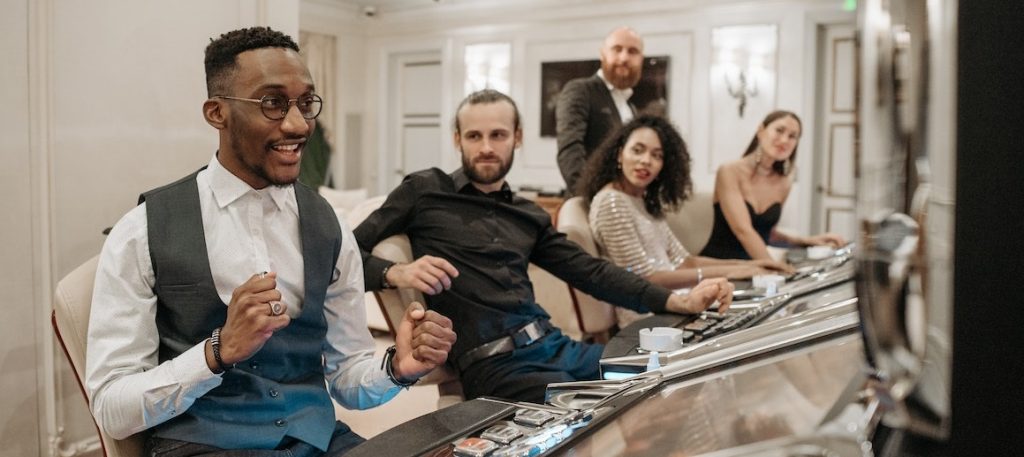 Placing your bet
Even if the maximum betting limit of a video slot might look low, you shouldn't automatically think the game isn't suitable for high rollers. After all, it's highly important to remember that video slots aren't table games. Because of their unique game play, you really can't compare the betting limits of a video slot with a blackjack or baccarat game 1 on 1.
Let's take a look at an example to explain this. A single game of baccarat can easily take 60 seconds for it to be completed. A video slot spin can be done within a matter of seconds.
Let's say that it takes 5 seconds to complete a single spin in a video slot. If you bet $10 per spin, you will have waged $120 on the video slot after a minute, while you might have only played a single $100 game on a baccarat table. As the gameplay of slots is lightning fast, it's as easy to spend big amounts of money at a video slot than at a table game. At first sight you might think that a $10 bet per spin isn't very high if you compare it to $100 baccarat or blackjack games. But trust us, these amounts are highly comparable.
If one thing you might even go through your bankroll more quickly while playing video slots as the fast gameplay makes it harder to keep an overview of your losses or winnings! If you do bet high amounts at video slots, we therefore always recommend you to be careful and to pause after a while to see if you might have waged enough for the day or can still continue playing. After all, even as a high roller you should adhere to your own limits, no matter how high they are!
Get C$1,600 and 150 free spins on sign-up at Mr. Play!
Winnings
What's also often overlooked by high rollers is the amazing winning potential of video slots. At table games like blackjack or baccarat, you might struggle to get a pay-out higher than 1 to 1. Sure, the pay-outs can be higher in games like roulette – another high roller favourite – but try guessing the correct number where the little ball will land!
If you are however really looking at some unprecedented potential winnings, you definitely shouldn't rule out video slots. Especially progressive jackpot slots are known for their sky-high prizes. These video slots work just like the lottery: As long as nobody managed to win the big prize, the jackpot will continue to rise to even greater extents! The Mega Moolah and WowPot video slots are the most common progressive jackpot slots you can find at online casinos. The jackpot prizes at these slots can easily reach heights of $20 million. That's a lot of money!
We don't say that winning big amounts of money is easier at video slots than table games. After all, this depends on the exact video slot or table game and their respective house advantages. You can check the house advantage of a video slot by looking up the RTP (Return To Player) percentage in the game's settings. This metric shows you what theoretical return you can expect if you were to play the game over a longer time. But in the end it's just luck that counts.
What we just try to say is that you shouldn't forget about video slots if you are looking to win big in the casino.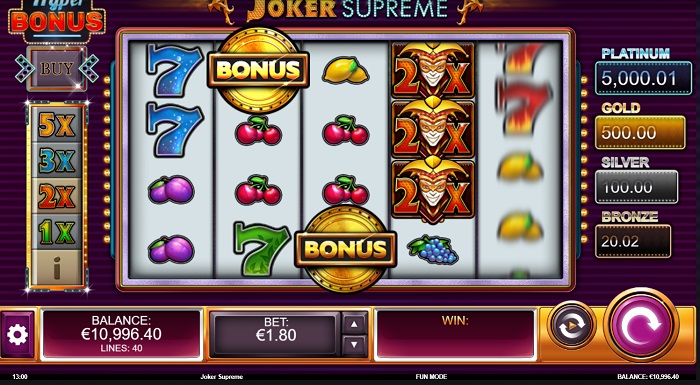 Bonus-buy slots
A feature that makes video slots much more attractive for high rollers is the bonus-buy function. If you find a video slot with a bonus-buy feature, you can immediately buy access to the free spins bonus round by placing a side about 50 to 100 times the size of your normal bet. You don't have to wait until three or more scatters appear and you will be taken to the bonus game straight away.
For some high rollers this feature might be extremely worthwhile. If your normal bet is $10 per spin, you can now bet $1,000 on a single high-stakes bonus game. It's of course a risky bet as there is no telling whether your gamble will pay off, but the winning potential is enormous.
Not all video slots have a bonus-buy feature. Check our article about video slots with a bonus-buy feature if you are looking for high-risk, high-reward slot action.
Get C$1,600 and 150 free spins on sign-up at Mr. Play!
Other tips
There are some other good tips we can give to you if you are looking for high limit video slots. First of all, we recommend you to identify the software providers which are known for creating high-quality video slots with high betting limits. Kalamba Games, Nolimit City, Pragmatic Play and Relax Gaming are four software studios which are known to make high limit slots.
It can also be worth it to investigate online casinos that offer VIP or rewards programmes to get more high roller benefits. These programmes often provide perks like increased betting limits, exclusive access to high limit games as well as promotions tailored for high rollers.
Get C$1,600 and 150 free spins on sign-up at Mr. Play!
Online casinos with high limit slots
If you are a high roller and are looking for an online casino full of high limit games you have come to the right place. Here at Highrollerscasino.com you can read all you need to know about high limit gambling.
Check out our list of recommended high limit casinos if you are looking for some high stakes gambling fun. All the casinos in this list are fully licenced by national gambling authorities such as the Alcohol and Gaming Commission of Ontario, the Malta Gaming Authority (MGA) and the UK Gambling Commission. You can therefore rest assured that the games you play are honest, your money and personal date are securely stored and that you will always get paid out fast if you happen to win.
If you are a first time gambler at one of these online casinos you can also claim a fantastic welcome bonus. Some of these online casinos offer welcome bonuses of up to C$1,500 or more to gamblers from Canada. That will certainly help you increase your video slot bankroll!
Get C$1,600 and 150 free spins on sign-up at Mr. Play!
Conclusion
If you are a high roller who is looking for some high stakes gambling action you shouldn't discount video slots. Although traditionally table games like blackjack, baccarat and roulette have been the biggest high roller favourites, there are some good reasons why you shouldn't discount video slots.
Thanks to the fast gameplay and high betting limits of some slots, it's as easy to bet big amounts of money on video slots as it is with the classic table games. Moreover, the pay-out potential is unparalleled. After all, you can win multiple millions of dollars or euros when you play progressive jackpot slots. If you bet big you can even win some serious money playing normal slots as many have a maximum pay-out set at $100,000 or even more. Video slots with a bonus-buy feature are certainly worth seeking out if you are a high roller. These slots allow for even higher bets and will give you some real high stakes action!
Here at Highrollerscasino.com you can find an overview of the best online casinos where you can play high limit slots. If you are a high roller and are looking to bet big, look no further than the excellent online casinos listed on this site!
Get C$1,600 and 150 free spins on sign-up at Mr. Play!