Casino Selection: How to Pick an Online casino Where You Can Play Safely and With Pleasure?
Online casino selection can be a real challenge – especially so for people who are new to online gambling and the casino world and have no idea what to look for when deciding where to gamble. There are so many online casinos that it is easy to loose the overview and to distinguish a good casino from a mediocre one. Even for the die-hard players it can still be a tough choice given that the online casino landscape is always evolving with new casinos popping up, new games being developed and new promotional campaigns being started to lure away players from rival casinos.
Claim a €100 Welcome Bonus at Royal Panda Casino!
Of course, as many casino review websites rightly point out it is important to pay attention to the reliability and fairness of online casinos. But this is just one aspect which should play a role in the casino selection process. If you plan to play at a casino then the most important thing is in fact that your favourite casino game should be present. Because why else would you go to the casino if it were not for the exciting casino games? While every casino offers similar games, if you start to dig deeper you will find out that seemingly identical games can actually differ a lot.
In this article, we explain what we think are the most important factors to consider when looking for a place to play your favourite casino games.
Permits and licences
Naturally, a casino should have all necessary permits to operate their business. This means that you should only place online casinos on your shortlist of possible places to play those who have a valid licence issued by a trustworthy national gambling authority. You should always opt for an online casino which is subject to regulatory oversight by national gaming authorities.
In practice, this means you should look for licenses issued by states or countries with a strong track record. This could be a certain US state, or in the case of Europe, the gaming authorities of such countries such as Malta, Sweden or the United Kingdom. The Mediterranean island and EU nation state of Malta has especially become some sort of a big online casino hub and is the place where most European casinos are based. Any Maltese government licence (issued by the MGA – the Malta Gaming Authority) is trustworthy. Other European casino havens which can be trusted are Gibraltar, one of the Channel Islands (such as Alderney) or the Isle of Man – places which often house casinos which focus on the UK market.
Internationally, some Caribbean islands such as the island of Curaçao are home to some trustworthy online casinos too.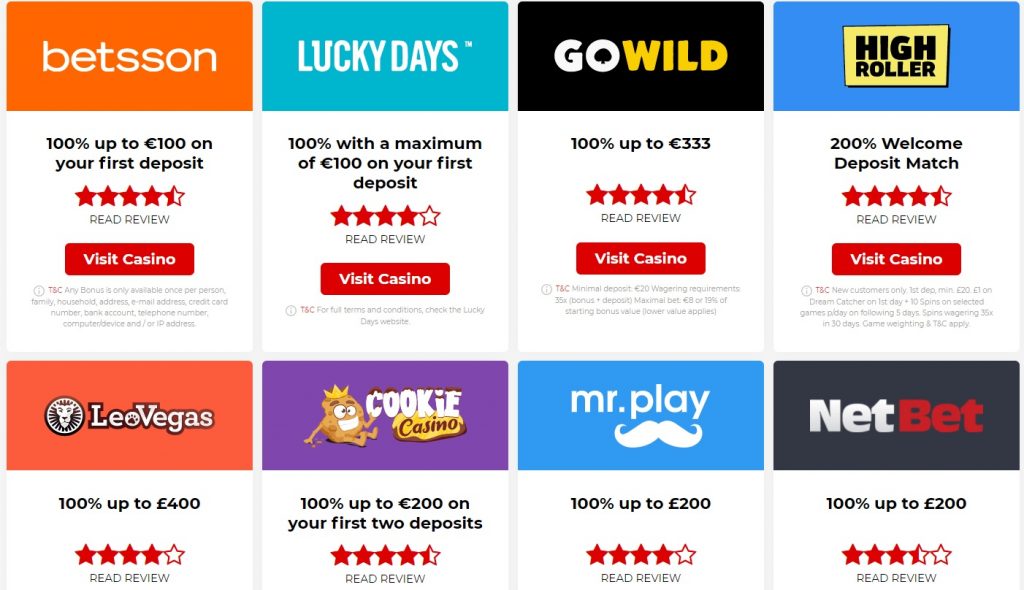 On our website, we have listed several recommended online casinos. For each, there is a full review listing all pros and cons.
Approved nationalities
This is a biggie as well and is a must to check out before you start making your final selection. Due to national laws – which are changing all the times! – some nationalities might find themselves excluded from playing at online casinos from a certain country. This is often the case for American gamblers, who often have a hard time finding an European casino which accepts Americans (the same can be true vice versa). Yet even when it comes to European casinos there is a huge discrepancy. Casino A might accept Belgian players but doesn't allow Dutch players to register. Casino B might accept Portuguese players but might not be open for Spanish players. Sometimes, a change in national laws in a certain country might mean that suddenly many online casinos are forced to stop offering their services to a certain nationality!
Make sure that the casino which you are eyeing does accept you as a player – check whether they have a list of approved countries. Often this is actually based on residency – as you would need to provide a valid, legal address in a country to register for an online casino account.
Claim a €100 Welcome Bonus at Royal Panda Casino!

Casino games & software
Apart from security, safety and reliability, software is one of the most important factors when it comes to selecting an online casino. It's not as simple as just checking which games are available in the game library of a certain casino. There are actually quite some details you should take into account. Below, we listed the most important factors.
– The number of games
Playing at a certain online casino could mean that you can choose from 200 different games, while a rival casino might have as much as 1,000 different games. Although the latter might seem to be the better choice when it comes down to which casino has the best game library, it is not as easy as it sounds. Let's say you are a fan of blackjack and you plan to play this game only. In this case, you need to pay attention to the blackjack games alone. The casino with 1,000 different games might be a lot less relevant if 950 of those games turns out to be video slots! If slot machines are your kind of games, then this casino might be excellent.
– Game variants
If you are a fan of blackjack or video poker, do you want to choose from a few variants or many different variants? A pretty simple choice right? You also want to check out whether a casino offers live casino games so you can play blackjack, roulette or baccarat with a live dealer. In online casinos, even a game like roulette can have more than a dozen of different exciting game variants which you won't find in a land-based casino. Compare carefully.
Claim a €100 Welcome Bonus at Royal Panda Casino!

– Payouts
The payouts are another very important factor – especially so for players of table games. Different casino software suppliers might have set different rules for their games. These are rules that determine whether you can split certain hands in blackjack, whether the bet can be doubled, but it also determines how much money you get paid for a "natural blackjack".
Some blackjack variants of specific software offer a 6 to 5 payout for blackjack, while other software offer a 3 to 2 payout for this hand. The casinos cannot always override such software settings from the developers and simply create their own payouts, so this can make a big difference.
Just a little calculation: bet 10 euros and receive a 6 to 5 payout. For every 5 euro bet, you win 6 euro. This means that with a bet of 10 euro you win a total of 12 euro (2 euros profit). In the case of a 3 to 2 payout, you will receive a profit of 3 euros for every bet of 2 euro. This means that with a bet of 10 euro you win a total of 15 euros (5 euros profit). That is a difference of 3 euro after a bet of only 10 euro.
With a bet of 100 euro, this total is already 30 euro difference. Needless to say, it is important that you always look carefully at the payouts at online casinos. You might have your own favourite software provider, in which case you want to check out which companies made the games that are available at a certain casino. Sometimes, casinos have games from multiple software developers – which is great as you can choose between different games and tables with different rules and payouts.
– Betting limits
Another important factor which must be taken into account before selecting an online casino. This is especially true for players on a budget and for high rollers who want to bet big.
The first category of players need to look out whether there are enough table games and slots where they can bet small amounts of money. If you have only a few dozen dollars to spend, your bankroll will be depleted quite fast if minimum bets only start at 5 dollar. You of course want a table where you can bet a few cents for each hand or spin.
On the other hand, highrollers and high-stakes gamblers should take into account maximum betting limits. If you want to play some real high stakes blackjack, you don't want to end up at a blackjack table where the maximum bet is just 50 dollar when you plan to bet as high as a few hundred dollars each hand.
It is also extremely important to check the payout rules so you know what the minimum and maximum payout limits are in a certain time-frame. You will always be able to cash out your hard-earned casino winnings, but especially as a highroller you don't want to wait forever to cash out a big prize if the casino only allows for a maximum payout of 1,000 USD per week.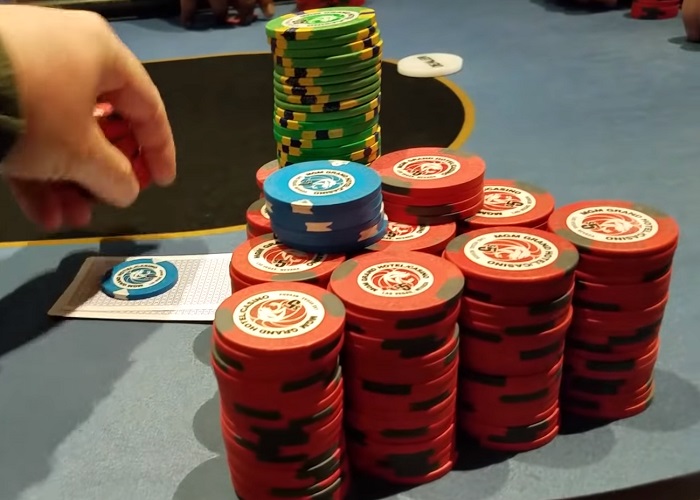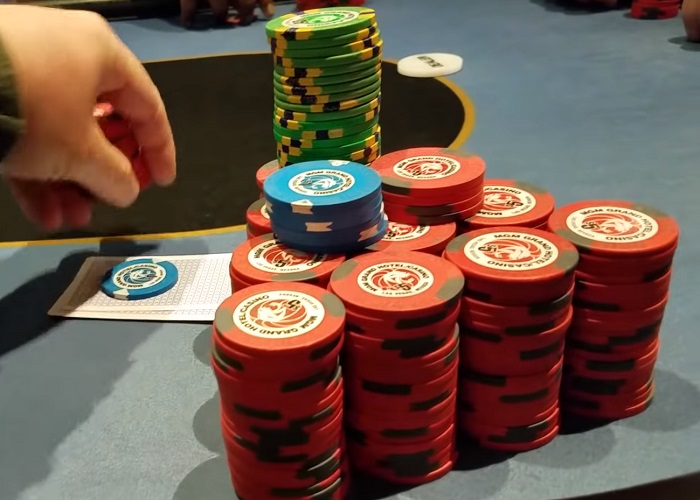 Take into account that there can be big differences in limits, game rules and even payouts depending on the table you select. ©Screenshot
Bonuses & Promotions
Another important factor in choosing where to play is the casino bonus. Online casinos have some excellent welcome bonuses for new players and the fun doesn't stop there. Even for regular players there are often some recurring bonuses and exciting promotional campaigns. Although we do think that the games and software are a much more important factor than bonuses (since they can affect your winning chances and playing fun) these casino bonuses are still a nice perk which should be taken into account. After all, why would you say no to a casino which doubles or triples your first deposit?
Promotions are important. At least, if you decide to continue playing at one or two online casinos as a recurring player. Bonuses and promotional offers always come with some terms and conditions. Although the 'free money' being promised by casinos is indeed handed to you and deposited on your online account, it is common that you can only cash out and withdraw it after you have been playing at the casino for a while longer and cleared the minimum waging requirements to fully unlock the bonus.
The most important thing to look at here is whether the games you want to play count towards unlocking a casino bonus, as sometimes a number of games are excluded from bonus campaigns. These are often games with the lowest house edge such as blackjack, baccarat or pai gow poker. It can also apply to certain bets such as red and black in roulette.
The same counts for VIP or loyalty programmes in which you can earn points for every dollar, pound or euro which you wage at a casino. Here, you often earn less points as well when playing the aforementioned games compared to for example video slots. For example, let's say that at a certain casino you receive 1 bonus point for every 1 euro you bet on a video slot. The casino has an offer in which you can exchange 1,000 points to 10 euro cash. The casino might however have a 50% handicap placed on other games such as video poker or blackjack. This means that you have to play twice as long to earn the same number of points as you would play on slots.
Sure, this is not that much of a big deal as such bonus points, VIP programs and promotional campaigns are all optional extras. They don't change the main aspects of a casino and the chances and odds of the games you play and money you can win. But if you plan to take advantage of such promotional offers, you should definitely compare and read the small print. Keep in mind that such rules apply to almost all casino bonuses available at online casinos including cashback, free spins, deposit bonus, reload bonus as well as VIP bonuses.
Claim a €100 Welcome Bonus at Royal Panda Casino!

Conclusion
Choosing an online casino should be a decision based on several factors. It is not only important to look for an online casino which has a valid licence and has the reputation of being reliable and trustworthy. There are also such factors as games, software, betting limits, payouts and available banking methods which come in play.
It is the complete picture which counts, and not just one factor only. Selecting an online casino is not an easy task, but it's certainly not difficult too as long as you know what to look out for. It does pay off investing some time into the process, comparing several online casinos with each other. Doing so will definitely save you from any potential problems later on! After all, you don't want to deposit any big amounts of money to an online casino – only to find out they don't have your favourite games available, the table limits are not suitable for your needs and they don't have your preferred banking methods to cash out your winnings. Only careful research will save you from such a situation!