Avoid These Casino Rookie Mistakes While Gambling!
These are the top casino rookie mistakes which people make while gambling – and you can easily avoid them if you know how.
Sign Up At Whamoo Casino And Receive 300 Free Spins!

Visiting a casino
There are millions of people across the world who like to visit a land-based or online casino and wage some money at one of the exciting casino games. Whether you prefer blackjack, video poker, a slot machine, baccarat, or roulette, there is always a game around that suits your style and needs.
Although experienced casino players probably know what they are doing, first-time casino visitors or amateurs are prone to make rookie mistakes. Even more regular gamblers can still be clueless about some aspects of the casino and some of their games, which unfortunately could lead to big losses.
In this article, we would like to address some typical casino rookie mistakes which gamblers sometimes make, but which are all easily avoidable as long as you know some facts and figures.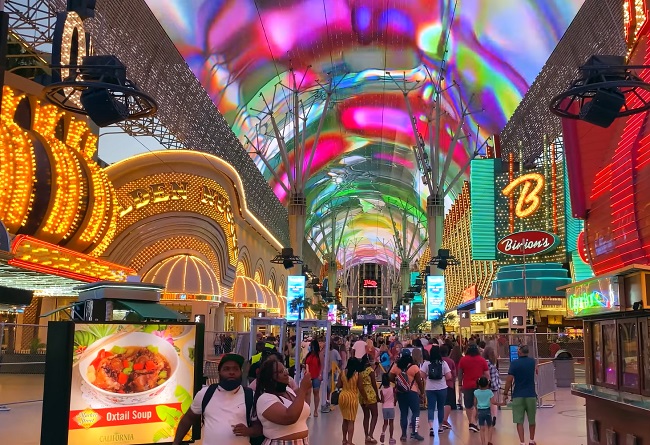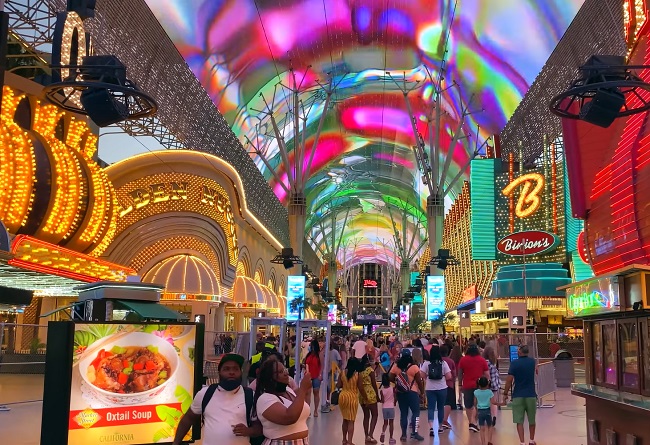 Casinos in Las Vegas. ©Screenshot

1. Not checking the odds
Of course, you could (and perhaps should) first and foremost select a type of casino game simply because you are attracted to it. There is no need to play roulette if you prefer video slots, and you should not be forced to play craps while you prefer the action of a blackjack table. Although there are people who gamble just for the chance to win big, to many it is a hobby, a relaxing activity.
You should however always check the odds of a casino game before playing. Needless to say, there is a huge difference between casino games alone. Some of them have better odds than others. If you like to learn more about the odds of most card games and a few other casino games, check out our special article on casino and card game odds.
Sign Up At Whamoo Casino And Receive 300 Free Spins!

2. Not comparing table games or video slots
You should also definitely compare variants of the same game with each other. When it comes to table games, you will often find many different tables to choose from in a casino. When playing at an online casino, you might find there are several versions of the game available, all made by different software developers and perhaps with slightly different rules and limits.
It are exactly these limits and rules which could have a major influence on your odds – and thus your chances of winning. Let's take for example the popular game of blackjack. You should always check the differences between tables. One major factor where tables differ is the pay-out rate for a natural blackjack. Although the standard is a 3 to 2 pay-out, there are lots of tables where this is 6 to 5 or worse: an 'even money' pay-out.
By sitting down at a table with a 6 to 5 pay-out instead of a 3 to 2 pay-out, the house edge increases by 1.4%. This can even be as a high as a 2.3% increase if you only get even money for a natural blackjack! Of course,  you might not have the opportunity to choose a more advantageous table if all the casino is offering are 6-to-5 tables. But if a casino has tables with different pay-outs – you should always compare them and only sit down at the best possible table.
With blackjack, there are lots of different factors which can influence your odds. This are rules whether the house should take a card or stand at a soft 17, the amount of decks being used and re-splitting rules among others. Check out our special article explaining the blackjack house advantage for more information and how you can select the best blackjack table in a land-based or online casino!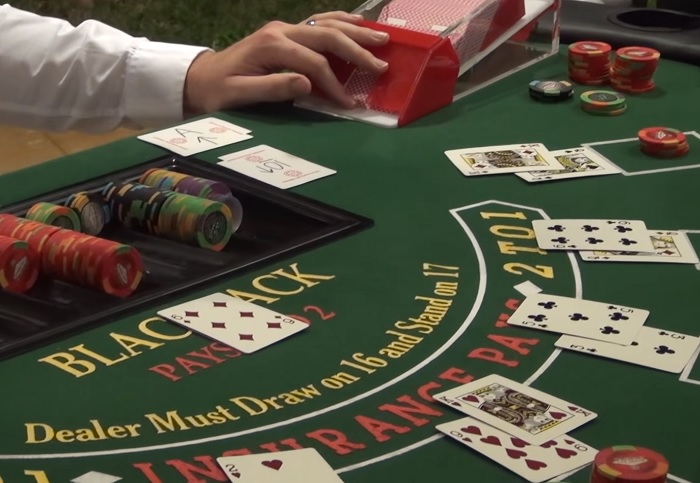 The casino always has a house edge – even in blackjack. But there can be a difference in odds between blackjack tables depending on how advantageous the rules and pay-outs are. This is why you should always compare different blackjack tables with each other! ©Screenshot
3. Comparing RTP rates
RTP stands for Return to Player, which basically sets out the theoretical odds of certain games. Slot machine owners must always produce the RTP of their machine, which means that you can easily compare video slots in an online casino.
We can best explain this with an example. Let's say a video slot has a Return to Player rate of 95%. This basically means that for every 100 euro which is waged by the players on this slot, 95 euro is returned in pay-outs to these players. Of course, this does not give a direct expectation what might happen to you when you sit behind the machine and start playing on the slot. After all, you could bet 100 euro and loose it all, but you might also win the multi-million jackpot with a bit of luck.
The RTP is a long-term theoretical expectance which counts for all players combined. It is calculated over perhaps millions of spins on a slot machine. Independent test labs and national gaming authorities have regular audits to check whether the real-time pay-outs of a slot machine are indeed in line with the expected Return to Player rate officially published by the slot machine maker and the casino in question.
Theoretically, your chances of winning are higher when you select a video slot with a higher RTP. This is why you should always compare RTP rates of slot machines! Sure, the difference between a slot with an RTP of 95.5% and one of 95.6% will be negligible, especially when you play for just a short while, but you could definitely fall into some traps if you do not compare RTPs.
If you have a slot with a super high RTP of 98% – and next to it a slot with a very low RTP of 85% – you would be doing yourself some major injustice if you sit down at the 85 percent RTP slot!
Of course, the RTP should not be the only guideline on how you select a good video slot. Lower-paying slots often have higher RTPs, while jackpot slots might have lower RTPs to make up for the enormously high prizes which you can win. As most casino players also play on slots for fun, you should also take into account how attractively a slot is designed, how cool the theme is, and simply how easy and straightforward a slot machine plays. You can sit down behind a slot with a high RTP, but if you don't like the game, the pay-outs are relatively low and it plays horrendously – then what is the point of playing?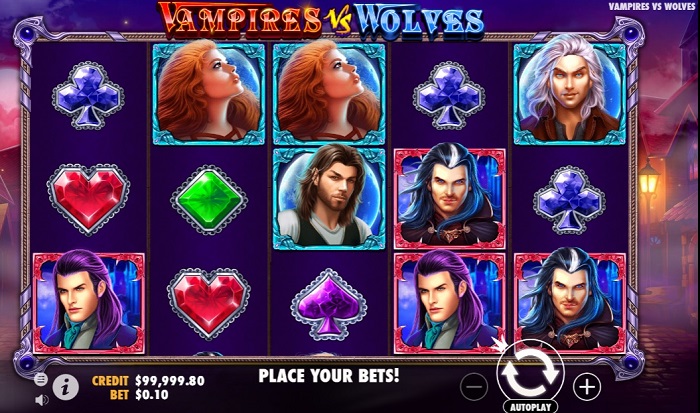 Video slots are always a popular category of games at online casinos. ©Screenshot
4. Selecting the wrong casino
This is especially a trap for online players. Although there are some bad land-based casinos as well, fact is that on the internet, it is much easier to dodge regulatory oversight. A Las Vegas casino is likely to be reliable and trustworthy because they are easy to check by the regulatory authorities of Nevada. Perhaps only a few underground dens might try to escape this – but it should be easy enough for you as a gambler to spot that such a place might not be the most reliable.
On the internet things can be much more tricky. Unfortunately, the online world is full of scammers and dodgy websites, and many of them manage quite well to pass themselves off as reliable gambling providers. Choosing the right online casino is one of the most important choices you have to make if you want to gamble online.
How to select a reliable casino? First of all, check whether an online casino has a licence from the gambling authorities of the state or country. Make sure that the casino is based in a reliable country. For example, in Europe many casinos are based on the island of Malta, an EU member state with strong regulatory authorities (the MGA – or Malta Gaming Authority). Licences are only given by the MGA when a casino has a large enough bankroll to pay out winning gamblers and when they have a fully tested online platform with approved games from reliable software providers. There are many more demands which a casino must meet to gain a licence, but they are too many to name here and beyond the scope of this article. But you get the idea!
Other reliable countries for online casinos are the UK, some of the Channel Islands such as Alderney, Gibraltar and Sweden. We have created a list of reliable online casinos on our websites. All these casinos have been independently reviewed by us. Pros and cons of each casino are listed which allows you to make up your own mind which casino you think is most suitable for you!
Sign Up At Whamoo Casino And Receive 300 Free Spins!

5. Not reading the terms and conditions
This is something which counts for online casino games, as well as online casino bonuses. Before starting to play a game, you should always check the game rules and pay table so you know what you are dealing with in advance. You are not only saving yourself from surprises later, but it helps you to be better prepared for the actual game!
It's even more vital when it comes to those great casino bonuses you can get. You might have seen – on this same website for example! – that online casinos offer welcome bonuses to new customers. This is absolutely great, as it allows you to start your gambling adventure with a nice bonus. Often these bonuses come in the form of free spins, or in a doubling or even tripling of your first deposit. For example, if you deposit 200 euro, a casino might offer you a 100% deposit bonus, meaning that it will double your bankroll by giving you another 200 euro from the house. You can then start gambling with 400 euro on your online casino account! All of this is complimentary – these free spins or free money is really that: free!
However, there are of course some strings attached to it. If you would be able to withdraw your bonus money straight away, the casino would literally just be handing out free money. Half the world would sign up and the casino would be bankrupt in days. Before you can withdraw bonus money, or money which you won with your free spins, you have to meet some wagering requirements set out in the bonus terms and conditions. Typically, this means you have to bet the amount of money 35 times before it is fully unlocked and you are able to withdraw it from your casino account as full pay-out of your winnings.
Some people don't realise this, in which case it can be a nasty surprise if you get 10 free spins, win 2,000 euro on your very last spin – only to find out you cannot cash out the money immediately. Meeting the wagering requirements shouldn't be too difficult for most gamblers, but you should definitely read the full terms and conditions before attempting to do so. Sometimes, a few casino games might be excluded from these wagering requirements, making any bets on such games rather useless.
If you are however fully aware of the wagering requirements and bonus conditions, these casino bonuses can be awesome and easy to exploit if you know what you are doing!
Fancy playing some casino games? Check our list of recommended online casinos and claim your free welcome bonus straight away!
Sign Up At Whamoo Casino And Receive 300 Free Spins!