Casino Dictionary: All Important Phrases, Terms and Words Explained
In this casino dictionary, we will explain the most important words, terms and phrases related to online gambling and the world of casinos.
Gambling
Would you like to play at an online casino but aren't you familiar yet with all the words, terms and phrases being used in the world of online gambling?
We know how it feels like. Especially for newcomers, the online casino industry can seem like a massive and at times downright weird world which might be hard to fully comprehend. Even more experienced players sometimes encounter words and terms they are not familiar with – especially when they try out new games.
To help you out, we have therefore made an overview of some of the most important casino words, terms and phrases. We are aware that some are missing, but we think we have the main online casino terms covered. You can find them below on alphabetical order from A to Z. Have fun reading and learning them!
Get a 50% welcome bonus of up to 500 euro at N1 Casino!

Casino dictionary
Ante: The ante bet is a bet required in some casino games. Before you start playing, you must place this bet on the table. Sometimes this already happens automatically when you play at an online casino. Good examples of this are Caribbean stud, casino hold'em and three card poker.
Banker: Another word for a dealer at the casino. In the game of baccarat it is also a bet on the bank. It's perhaps the best bet possible in this game.
Banco: A bet on the bank at baccarat (punto banco version) – see above.
Bankroll: The amount of money you have on your online casino account. This is the money you can use to gamble with. If your bankroll is too low, you can always deposit some more money to your online casino account.
Bonus: A sum of money or a prize which you receive from the online casino after meeting certain conditions. For example, some casinos give you a welcome bonus, which they only give after you register for a new account and make your first deposit. There are several kinds of bonuses available, such as monetary bonuses or free spins bonuses.
Get a 50% welcome bonus of up to 500 euro at N1 Casino!

Cashier: At the cashier you can either convert your money into chips to use at casino games, or reconvert chips back to money. The term cashier is therefore mostly used at land-based casinos as this is the place where you make most monetary transactions and cash out your profits. At online casinos you need to look at the payment pages to find out which payment options can be used to deposit money, or how to pay out your winnings.
Comp points: Comp points, also called comps or compensation points, are sometimes given by a casino to returning players to thank them for their loyalty. It's like collecting bonus points while gambling! You might receive points for every X amount of euros you spend on online gaming. For example, a player might receive 1 point for every 20 euro he or she wages at the casino. If you earn enough points, you can exchange them for money or real-time prizes. Not every casino (online or land-based) uses comp points, while others do have such a casino loyalty program or special VIP program.
Croupier: You will see the croupier at the roulette tables handling pay-outs, exchanging chips, throwing the ball into the wheel, and placing the dolly on the fallen numbers. Croupiers are there to keep the roulette game running.
Cut card: The cut card is a card that is placed in a specific place in the deck to separate the cards. This card is used in various casino games.
Dealer: The dealer deals the cards at casino games. Well-known games that come with a dealer are poker, punto banco and blackjack.
A game of blackjack at a live online casino. ©Screenshot
Flash casino: A flash casino is a type of online casino that allows you to play casino games using Flash technology. The software and games used by such a casino are developed in Flash. You do need to make sure your browser supports Flash. It can be the case that you must download Flash first (for free) from its creator Adobe. Most casinos use a combination of different games and software providers, so even if you are not a fan of flash games there are often hundreds of other casino games made in other ways (such as HTML5, which is the dominant programming language for online casinos at the moment). Although Flash allows for stunning graphics and visual effects, it can run slower in your browser.
Free spins: Casinos often hand out free spins as a bonus to newly registered players or to loyal returning customers. Free spins can also be a bonus feature which is part of a video slot game, in which a certain combination might win you some free spins in a special in-game feature. In most video slots, you can unlock the free spin feature by gathering three or more scatter symbols.
Get a 50% welcome bonus of up to 500 euro at N1 Casino!

Highroller: A highroller or high roller is someone who bets big amount of money on a single bet. These players tend to have large bankrolls and are not scared away by some high stakes action, often spending waging hundreds of euros or dollars in a single blackjack, baccarat or roulette bet. For high rollers, it is all about high risks, but also high potential rewards!
House advantage: The house advantage or house edge is the mathematical advantage that the casino has over the players. In blackjack it is possible to bring the house edge to less than 0.5% when using an optimal strategy. The house edge for European roulette is for example 2.7%. Basically, it means that for every 100 euro you bet at roulette – you will lose 2.70 euro. Of course, these numbers are measures over a long term, meaning thousands of games by hundreds of players. It doesn't say anything about the short-term prognosis as you might be lucky and get back from the roulette table with 400 euro in your pocket, or lose all your money when having some bad luck!
Jackpot: A grand prize offered for a specific outcome in a game. The term is mostly used with video slots and video poker machines. In video poker you win the jackpot with a royal flush. On online video slots it differs from game to game what kind of combination is needed to win the jackpot. There is a difference between a fixed jackpot and a progressive jackpot, which keeps on running higher and higher until the moment someone wins it.
Live casino: Many online casinos nowadays offer a 'live casino'. Instead of playing a virtual game, you are connected with a special casino studio using a high-definition video feed. In this studio, real table games are placed and they are led by professional croupiers and dealers. You give your commands by chat, voice or just by clicking on your screen, and your bet will be placed on the table. The entire table game action will happen in full view in front of the cameras, making it almost feel like you are standing in a real land-based casino, especially when you play at a table with a chatty dealer! You can watch live how the croupier places the roulette ball into the wheel or how your blackjack dealer shuffles the cards. Live casino games are very popular because the experience comes closest to real land-based casinos.
Lobby: In the lobby you will find online casino games to play. You can browse through different categories of games in the navigation menu. Often there are special search functions and you can sort games by software developers or betting limits. In the lobby you will often see links to the vital casino pages as well, such as for example the payment page for deposits and payouts of casino profits, or your personal profile.
Get a 50% welcome bonus of up to 500 euro at N1 Casino!

Maximum limit: The highest bet that can be placed at a casino game.
Minimum limit: The lowest bet that can be placed at a casino game.
Multiplier: A quantity by which a given number (the multiplicand) is to be multiplied. Most commonly used within video slots. For example, unlocking a multiplier x2 will mean that your winnings will be multiplied by this factor. If a combination will normally earn you a payout of 100 euro, you will now earn 100 x 2 = 200 euro! In some video slots, there are even multipliers as high as x6.
Neighbour bets: The neighbour bet is a feature on some online roulette games where you have the opportunity to bet money on a whole series of numbers. Although the numbers are not on the playing field, they cover adjacent numbers on the wheel to increase the chances that the ball will land on your area.
Payout Rate: The expected amount paid out by the casino in the long run and expressed in percentages. It can be applied to a specific game or all the games together from a casino. Check out the payout percentages to find out what your odds are for winning money.
Payout Table: A table showing what the relevant payouts are for each bet at a table game, or what winning combinations are possible on video slots and video poker machines and what they pay out exactly.
Punto: A bet on the player in the game of punto banco. It's basically the opposite of a bank bet, which is a bet on the bank.
Push: An outcome of a game which is essentially a draw – which means the bet is either returned or remains on the table because neither the player nor house did win. In blackjack, a push is possible if you have a total of 19 and the dealer also has 19.
Get a 50% welcome bonus of up to 500 euro at N1 Casino!

Random Number Generator (RNG): The random number generator (RNG) is a piece of software that generates random numbers and converts them into specific combinations, symbols and outcomes. For example, it determines which number falls in a roulette game or which card is dealt in blackjack. RNGs are regularly checked by independent testing organisations and regulatory authorities whether they are indeed completely random and trustworthy and not unfairly skewed towards a certain outcome.
Reload bonus: When your balance falls below a certain amount, it is often possible to take advantage of the reload bonus at some online casinos. This casino bonus is suitable for returning players and often includes free money (as a percentage of the deposit you make to top up your account) and / or free spins.
Return to Player (RTP): The Return to Player (RTP) is a percentage similar to the payout rate of a game. It is most commonly used for video slots. For example, a video slot with an RTP of 97 percent means that for every 100 euros which are bet in the game, on average 97 euros are returned to the players in payouts. Of course, this does not mean that if you bet 100 euro you will 'win' 97 euro. If you think of it, it could also mean that when two players each bet 50 euro, player 1 loses all and wins nothing, while player 2 wins 97 euro. In fact, the RTP is an average calculated over a long time over thousands of players and millions of spins, and therefore only gives you an estimate what you can expect over the long-run. It is therefore best used as a comparison tool between different slot machines.
Scatter: A special symbol in a video slot which help you unlock a bonus game or free spins. In each video slot, the scatter symbol might look different depending on the theme and style of the game, so check the game rules and payout table carefully before you start to play.
Shoe: The shoe, also called a slipper, contains multiple decks of cards in certain card games such as blackjack. The cards are distributed by the live dealer from this box.
Tie: A third possible bet in baccarat, next to the bet on the banker or player. It comes with a house edge of over 14% and is therefore not always recommended. You are basically betting for the player and banker to tie/draw.
Get a 50% welcome bonus of up to 500 euro at N1 Casino!

Video slots: The modern versions of classic slots and fruit machines. The video slots often come with better and more exciting bonus features, mini games, and offer multiple options for winning money. Bonus features such as wild, scatter, multipliers and jackpots are included to make the games more attractive. The images and sounds have also improved tremendously over the years.
VIP: A VIP (Very Important Person) in the casino world is an important casino guest. Although sometimes famous persons are automatically made casino VIPs, you don't need to be a famous actor, singer or businessman to be a casino VIP. In fact, a casino also considers highrollers (players who bet lots of money) as their VIPs as to them they are important customers who deserve all attention. They often get more exclusive bonuses, prizes and access to special high-limit tables.
Wagering requirements: The wagering requirements are the terms and conditions of certain casino bonuses or promotional campaigns. It's the fine print which is a must-read if you want to fully understand the ups and downsides of each bonus. These requirements determine how much money a bonus is really worth and how often a bonus must be bet before it can be actually paid out into your own bank account. Various bonus terms such as wagering requirements, game restrictions, winning limits and maximum bets are discussed in these terms and conditions.
Whale: A whale is a high roller who plays high stakes casino games.
Wild: Similar to a joker in a card game, a wild is a bonus symbol in a video slot which can stand in for any other symbol in the game.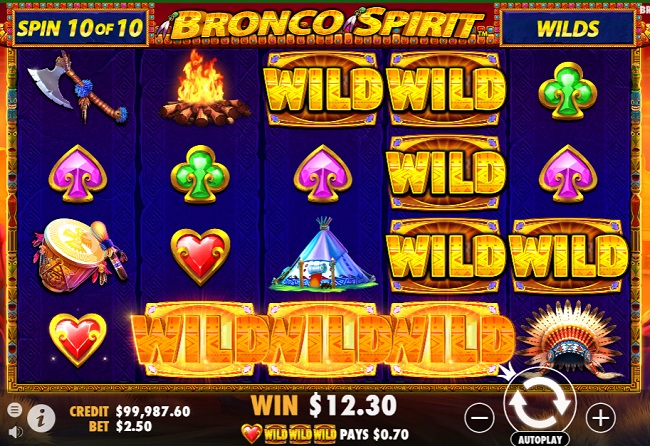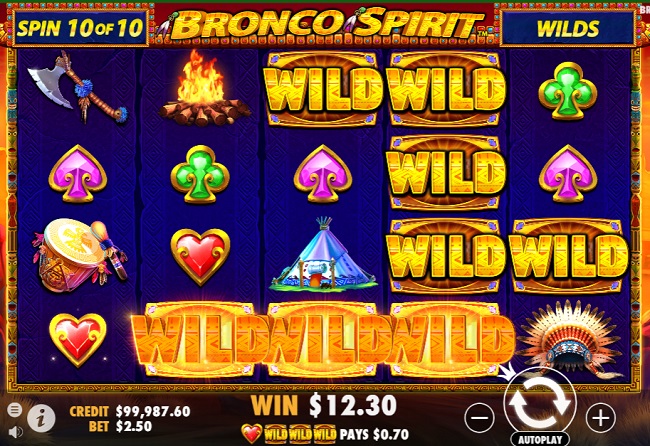 Wild symbols on an online video slot. ©Highrollerscasino
Fancy a bet?
Want to try out your luck at an online casino? If you sign up now at N1 Casino – a highly recommended, fully licenced online casino – you can profit from a great welcome bonus which could net you 500 euro!
Or check out our casino review page where we have written independent reviews of a dozen other casinos, with all of them having similarly exciting welcome bonus packages.
Get a 50% welcome bonus of up to 500 euro at N1 Casino!