Top 10 Best Casino Card Games to Play Online
In this article we will explore the best casino card games available and show you what our top 10 favourite games are if you want some hot casino action!
Card games
There are hundreds – perhaps possibly thousands – of different card games which you can play online. Some of these card games are probably ones you heard from before, such as the well-known casino games of blackjack and poker. There are however quite some other card games which you can play online, both for fun and for money! These games can be completely new games you might not yet be familiar with, but they can also be more unknown variants of the popular card games out there.
On this page we made an overview of our favourite 10 card games which can be played at an online casino on the internet. Some of them are played against other players, while most of them are played against the house (a dealer). All these online casino games are powered by software with a Random Number Generator (RNG), which means that the outcome of each game is totally random and fair. You can definitely trust these games when it comes to honesty, trustworthiness and reliability.
Continue reading this page to find out what our favourite card games are, whether they come with good odds for you as a player, and what kind of exciting versions of these games are available at online casinos!
Get a 50% welcome bonus of up to 500 euro at N1 Casino!

1. Poker
How to win this game: Have the best possible hand, or convince players that you have a better hand and bluff all other players out of the game.
Card games don't get much better than classic online poker. The game is simple enough when it comes to the rules and aims. The goal is to try to have the best hand possible in the game, or at least to have a better hand than your opponents. You can make your hand from the two cards you receive and five shared community cards on the table. The popularity of poker has grown rapidly over the last decades, especially thanks to the Texas Hold'em poker variant of which tournaments such as the World Series of Poker (WSOP) are famously televisionised to great popularity.
Besides Texas Hold'em Poker, well-known poker variants are Card Draw, Omaha and Stud. There are many online poker tournaments to play at poker sites and you can compete against other poker players around the world for both low and high limits. Of course, there are plenty of websites where you can play for free using fake money or credits – which is ideal if you are a beginner wanting to practice first before betting some of your money.
Before you start playing, it is important that you know well which poker hands can be formed. In the overview below, we have listed all possible poker hands (based on Texas Hold'em).
Get a 50% welcome bonus of up to 500 euro at N1 Casino!
Poker hands
Royal Flush: A Royal Flush consists of five consecutive cards from 10 to Ace of the same suit. It is important that all of these cards are of the same suit (eg. 10 to Ace of hearts). The Royal Flush is the highest possible hand in most poker variants and in some cases this hand is the way how to unlock the jackpot (Caribbean Stud, Casino Hold'em and Video Poker).
Straight Flush: The Straight Flush is formed with five consecutive cards of the same suit, except for 10 through Ace. This is for example a hand of 8, 9, 10, J and Q of diamonds.
Four of a Kind: A Four of a Kind are four of the same cards. This is for example a hand with Q, Q, Q, Q and A.
Full House: The Full House consists of a Three of a Kind and a Couple. This is for example a hand with 10, 10, 10, 6 and 6.
Flush: The Flush can be formed with any five cards of the same suit. This is for example a hand of K, J, 9, 8 and 7 of spades.
Street: The Street consists of five consecutive cards which are not of the same suit. This is for example a hand with 5, 6, 7, 8 and 9.
Three of a Kind: A hand with three cards of the same rank. This is for example a hand containing Q, Q, Q, J and 10.
Two Pairs: The Two Pairs hand is simply formed by two different Pairs. This is for example a hand with Q, Q, J, J and a 5.
One Pair: Two cards of the same rank is a pair. For example Q, Q, J, 8 and 5 is a hand with a pair of queens.
High Card: If no combination can be formed then you have a hand with a single High Card (also called a kicker). For example a hand such as A, 10, 6, 3 and 2 – all from different suits – is a high card hand. The high card in this hand is of course the Ace as it has the highest value. In case two players have identical hands a match can also be decided on the high card. For example, two players both have two pairs of J-J-8-8, but player one has a king as fifth card, player two a 10. In this case, player one wins the hand due to having a higher kicker.
Get a 50% welcome bonus of up to 500 euro at N1 Casino!

2. Blackjack
How to win: Reach a total of 21 or get a better total than the dealer. Your score however cannot go over 21 points as then you will go bust and automatically lose the hand.
Blackjack has one of the simplest rules of all online casino card games. Your hand needs to beat the dealer's hand by getting as close to 21 as possible without "busting" (going over 21). An ace counts for either 11 or 1, K-Q-J-10 all count for 10 each, and the numerical cards count for precisely the amount it says on the card (3 = 3 points). If you have a natural blackjack (ace-10 card) you can often get some good payouts of 3 to 2.
Of course, you will certainly not always immediately hit a score of 21 immediately after receiving your two cards from the dealer. Chances are you might get something like a 9-4 (for a score of 13) which means you have a decision to make! There are numerous options now for the players such as hitting (get another card), checking (you are happy with your hand as it is and don't want another card), splitting, insurance, doubling and surrendering. Before you start to play, it is a good idea to see which game rules apply. Following a basic strategy will certainly increase your odds during this game. Every decision which you have to make has a huge impact on the odds, which is why any deviation from the basic strategy is bad for your money. If you follow the basic strategy perfectly, the game of blackjack is known to have one of the lowest house advantages (house edge) of all casino games.
Get a 50% welcome bonus of up to 500 euro at N1 Casino!
Several blackjack variants which you can find at most online casinos are Atlantic City blackjack, Pontoon blackjack, Spanish blackjack, Double Exposure blackjack and Single Deck blackjack. All of these games have their own advantages and disadvantages, so check carefully which game suits you best. There are also dozens of blackjack variants if you prefer to play in a live casino, such as Infinite Blackjack, Free Bet Blackjack and Common Draw Blackjack, which are all very popular among players.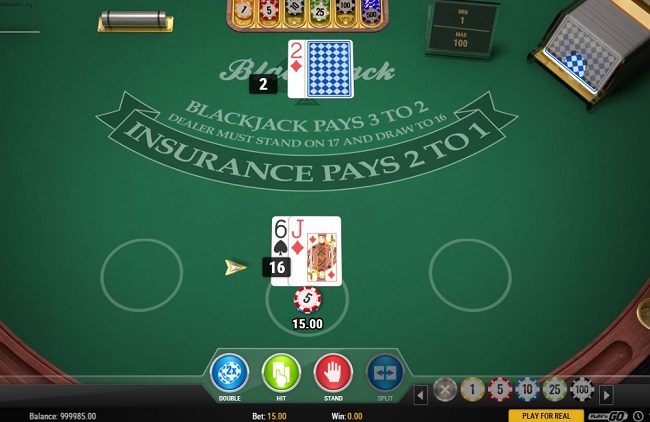 3. Video poker
How to win: Form a poker hand and receive a payout based on the strength of the hand.
Online video poker has become very popular in recent years and is offered in many different types at almost every online casino. As these games can have some good odds, is is definitely one of our own firm favourites. Sometimes you can select out of dozens of different video poker machines including Jokers Wild, Aces & Eights, Aces and Faces, Jacks or Better, Joker Poker, Tens or Better, Double Bonus Poker, Deuces Wild and Progressive Poker.
Players are dealt five cards on the screen and must choose which cards to hold and which to discard. Then, in the second turn, a 5-card hand must be formed. Based on the pay table you will receive a payout for the poker hand made.
In video poker it is possible to apply a strategy in order to increase your odds. The strategy is based on how likely it is for a specific hand to be formed with the 52 playing cards in the deck. These cards are shuffled every turn. Some video poker variants allow the player to play with 10, 25 or 50 hands at a time. However, this does require playing with a higher stake.
Get a 50% welcome bonus of up to 500 euro at N1 Casino!

4. Punto banco
How to win: Predict whether the bank or player gets closer to a total of nine.
The punto banco game may look very complicated at first glance, but surprisingly it is very easy to play. This popular card game is played between the dealer (also named the bank, banker or banco) and player (simply called player or punto). The goal of the game is trying to predict whether the player or the banker will win the round. After placing bets, the game unfolds automatically.
The aim of the game is to get as close to 9 as possible. The dealer and player both receive two cards. It is not possible to exceed 10 because the first digit of the card total is always removed. If the player has a total of 11, this basically means a total of 1 (10 taken off). In some situations, a third card must be drawn for both the dealer and player.
In total there are three betting options available; punto, bank & tie. The tie is a draw between the dealer and player. This pays out 9 to 1. Keep in mind that it's generally seen as a bad bet because it comes with a house edge of 14.4%. It is best to bet on the bank (banco) because it comes with a relatively low house edge of 1.17%. The punto bet comes with a house edge of 1.36%.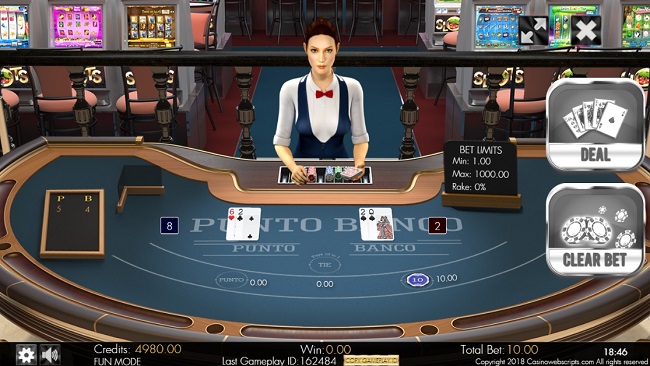 5. Texas Hold'em Poker

How to win: Beat the players with the best hand or bluff them out of the game by letting them think you have a better hand.
If you know how to play poker you also know how to play Texas Hold'em. Instead of playing against the casino, Texas Hold'em can be played against other players. This can be your own friends during a game of poker at home or in the pub, or playing against strangers from all over the world if you opt to play Texas Hold'em Poker online. For this reason, Texas Hold'em is a popular choice among poker enthusiasts. In addition, it does not come with a house edge and it is certainly possible to win money with this game on the long term. This is because apart from luck there are also skills and tactics involved in Texas Hold'em Poker. As you might have seen yourself from the TV where sometimes tournaments such as the World Series of Poker (WSOP) are shown live, there are quite a number of people who play poker professionally and earn a very good living with it. Although the great majority of players is likely not talented enough to become one, Texas Hold'em Poker does hold the distinction of being one of the few casino games in which some really can earn a long-term profit.
It's all about getting more and more experience playing poker, which you can do by reading various poker books, learning poker strategies, and practicing as much as you can. It is possible to gain an advantage even before you start playing. Selecting the right table in which you either play against weaker players or against players with suitable playing styles can also make a difference between not earning any money at all and going home with some decent winnings.
Get a 50% welcome bonus of up to 500 euro at N1 Casino!

6. Three Card Poker
How to win: Beat the dealer with the best hand.
Even though there might be fewer cards in this poker variant to worry about, you definitely shouldn't be fooled into thinking it's easier than other online card games.
In most poker variants, players must always place an "ante" bet before the cards are dealt. However, at Three Card Poker, players must also place an "pair plus" bet next to the ante bet. Online casinos offer various bonuses for these bets, which ensure that players' winnings are paid out up to five times as much as usual.
The payouts at Three Card Poker can be very high, but are also highly volatile. It is essential that players have a good understanding of the Three Card Poker strategy as best as possible. It is also important to be aware of the odds and the rules that are used in the game if you want to play for real money. For example, a Three of a Kind is worth more than a Full House, while a Street is worth more than a Flush.
Get a 50% welcome bonus of up to 500 euro at N1 Casino!

7. Jokers Wild
How to win: Try to form the best five-card hand, with or without the help of a joker.
The Joker wild game is a variant of Jacks or Better video poker and is one of the most popular card games for new players. The rules are the same as in regular video poker, except there is a card in the deck that serves as a joker and can be used to take the place (and value) of any other card in the player's hand.
To compensate for the improved odds for the players, a pair of kings is the minimum hand which you must get to be able to receive any payout. While there are definitely some nice winnings to be won at Joker's wild, the smartest way to get good earnings is by playing with a maximum bet whenever possible. It is definitely worth it to check carefully at online casinos if this so-called 5 coin bet makes you eligible for an extra bonus in case you hit a Royal Flush, as those are the best jokers wild machines to play at.
Get a 50% welcome bonus of up to 500 euro at N1 Casino!

8. Stud Poker
How to win: Combine the best possible five cards and create a better hand than your opponent.
Many versions of Stud Poker are available, but the most common one is called 7-card stud poker. Players receive seven cards in each round; three of them face up, four of them face up. All players can more or less see half of other players' cards, which is why it is important to be more experienced and know what it means for some players to have certain cards open.
Stud Poker is played with a limited betting structure. This means that only small bets may be placed, although these bets increase as the game progresses. The game of 7-card Stud can have 7 rounds if there is more than one player remaining in the pot. It is recommended that you first play a few rounds for free at online casinos to become familiar with game rules before you start to bet any real money.
Get a 50% welcome bonus of up to 500 euro at N1 Casino!

9. Pai Gow Poker
How to win: Form a 2-card hand and a 5-card hand with the 7 cards you receive and beat the dealer with both of these hands to win.
The Pai Gow Poker game is played with seven cards. With these seven cards you have to form two different hands: one hand with two cards and a hand with five cards. You can beat the dealer by winning both hands. Pai gow Poker is ideal for beginning casino players as the game is fairly easy to grasp and the house edge is relatively low.
The reason behind the low house edge is because you often tie with the dealer. Winning one hand and losing the other will result in a tie. You'll only lose your bet if the dealer wins both hands against you. The highest poker hand value must be in the five-card hand.
Get a 50% welcome bonus of up to 500 euro at N1 Casino!

10. Caribbean Stud Poker
How to Win: Get the best five-card hand to beat the dealer.
Caribbean Stud is a fast-paced card game which combines the rules of standard poker with the chance to win a massive jackpot as main prize. Players must beat the house by having a better hand than the dealer and decide if they want to place an additional small bet to play for the chance to win the progressive jackpot.
It is precisely that jackpot which attracts many players to this game, because it can turn a small bet into tens of thousands of euros if you happen to win it. To win this jackpot you must however get a Royal Flush. To have even better chances of becoming a Caribbean Stud winner, you can use a strategy. The goal is to have a better hand than the dealer and you can see one card from the dealer face up from the five cards he receives.
Based on your own five cards and the dealer's exposed card, you have to make a choice whether you want to continue playing or fold your hand. The highest possible hand value is a Royal Flush, and the rest of the hands are similarly based on the well-known Texas Hold'em poker game.
Get a 50% welcome bonus of up to 500 euro at N1 Casino!

Conclusion
Now that you know what the most interesting online card games are, you can decide yourself which one best suits you. If you like to compete against other players then card games like poker (Texas Hold'em) or Draw Poker are recommended. Looking for an easy-to-learn casino game with a low house edge? Then blackjack is a very easy game to learn and fits the bill perfectly. Do you want to have a shot at a massive jackpot prize just like you have in video slots? Then try out a game like Caribbean Stud Poker!
Get a 50% welcome bonus of up to 500 euro at N1 Casino!