Baccarat Playing Tips: How to Improve Your Winning Chances
The game of baccarat is a one of the big casino classics: With the following playing tips you can improve your chances of winning. In this article we will take a look behind the maths of baccarat and explain some of the most important facts you need to know about baccarat.
Unfortunately, some players do not fully grasp the game of baccarat properly and make mistakes that are otherwise easily avoidable. We can't promise that these tips will turn you into a guaranteed baccarat winner, but for sure the advice will be helpful to many.
Play Baccarat at Lucky Days and Get a $1500 Bonus!
The best baccarat tips
If you want to improve your baccarat skills it is important that you understand how the game exactly works. This goes beyond understanding the basic game rules. What is most important is that you understand baccarat when it comes to your actual winning chances for every bet you make, the house advantage, commissions and the differences between game variants.
Let's take a look at some of the key details of baccarat.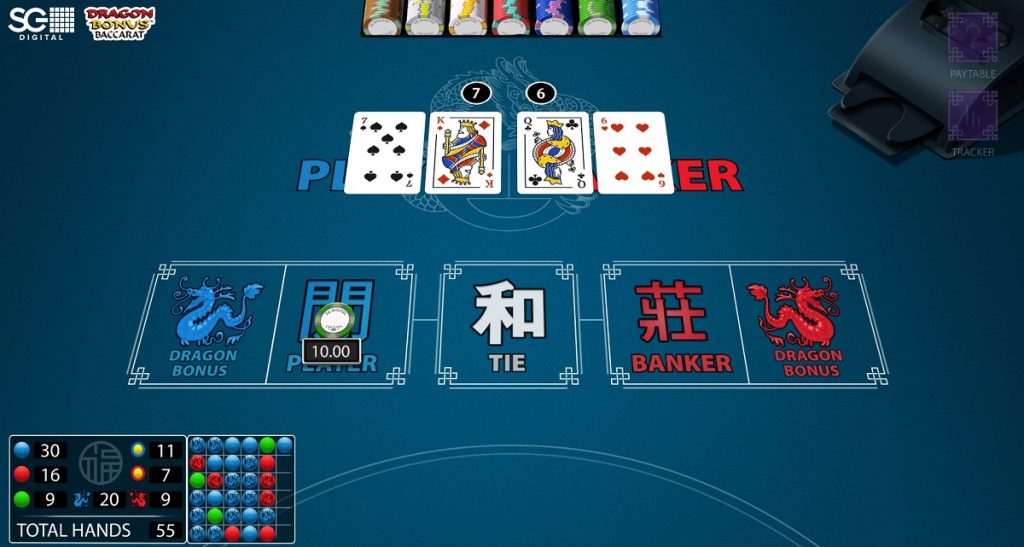 Difference in baccarat bets
When it comes to playing baccarat, it's crucial to have a good grasp of the various betting options available and their respective house advantages. The three main betting options in baccarat are: The Player bet, the Banker bet, and the Tie bet.
The Player bet is straightforward, as it involves wagering on the player's hand to win. With a house edge of approximately 1.24%, this bet is considered to be one of the more favourable betting options for players. On the other hand, the Banker bet means that you are betting on the banker's hand to be the ultimate winner. This bet has a slightly lower house advantage of about 1.06%. Although the difference is small, it's worth noting that casinos usually charge a commission on the Banker bet to offset the higher odds of success – more about this later.
The third baccarat betting option is the Tie bet, which involves betting on the player's hand and the banker's hand to have an equal value and the game ending in a draw. While the Tie bet may appear tempting due to its potentially lucrative pay-out (usually 8 to 1 or 9 to 1), it does have a significant house edge of around 14.36%. This makes the Tie bet a riskier choice! You are therefore advised against betting on a tie, unless you really want to take a high-risk gamble.
Play Baccarat at Lucky Days and Get a $1500 Bonus!
Baccarat commission
Another baccarat playing tip to keep in mind has to do with the commission that can be charged at some tables. Is is highly important to be aware of the variations in commission charges that can be applied at different baccarat tables. Commission is simply a percentage of the winnings that the casino deducts from certain bets, primarily the Banker bet.
Traditionally, the standard commission rate for a winning Banker bet is 5%. This means that if you wage $100 on the Banker and would win the bet, you would receive $95 in winnings after the 5% commission is deducted. The reason behind this commission is to balance the slightly higher odds of success associated with the Banker bet like we have explained above.
However, it's worth noting that commission rates can vary between casinos and even between different online baccarat games or live casino tables. Some casinos charge a higher commission of around 10% on winning Banker bets. This higher rate can significantly impact your overall winnings, so it's best to avoid such baccarat games or tables.
Before you start to play you should check out what the commission rates are for each baccarat game or table at the casino, something which you should do both in a land-based casino as well as when you play the game online. Some casinos do offer commission-free baccarat tables and games to attract players. These tables have no commission charge on winning Banker bets, and are thus well-worth seeking out.
Play Baccarat at Lucky Days and Get a $1500 Bonus!
Pay-out differences
Just like you should be aware of the possible differences in commission between certain baccarat tables and games, you should also pay attention to potential pay-out differences. As the pay-out structures may differ slightly between online baccarat games it can affect your winning chances. One of our top tips is therefore to check the pay-outs of each baccarat table or game before you start playing.
In most standard baccarat games, the pay-outs for the Player and Banker bets remain consistent. A winning Player bet typically pays even money, meaning you receive a 1:1 pay-out. A successful Banker bet often pays out at 1:1 as well, but with a commission deducted from the winnings. These pay-outs are considered the norm and are widely used in land-based casinos and online baccarat games.
However, it's worth noting that some game variants of baccarat may offer different pay-out ratios for specific bets. For instance, you may come across tables or online games that offer enhanced pay-outs for specific outcomes, such as a natural win (a total of 8 or 9 on the initial two-card hand). In such cases, the pay-out for a natural win can be increased to 2:1 or even higher. This can potentially increase your winning chances. However, there are also some games where a different pay-out structure might make the game more disadvantageous for you. Make sure you always consult the game rules and pay-out tables to understand the pay-out differences. This way you can make informed decisions which baccarat game and table is the best to play.
Play Baccarat at Lucky Days and Get a $1500 Bonus!
Baccarat game variants
Especially in online casinos you can find many different game variants of baccarat. These variants often introduce slight rule modifications to diversify the gameplay experience, but that means it can also influence the house advantage. It's important to familiarise yourself with these baccarat versions before you start playing so you can make informed decisions whether your winning chances are actually higher or lower than standard baccarat.
One well-known baccarat variant is Mini Baccarat, which is commonly found in both land-based and online casinos. As the name suggests, Mini Baccarat follows the same basic rules as traditional Baccarat but with a few key differences. Notably, Mini Baccarat is played on a smaller table and typically offers lower betting limits, making it more accessible to a wider range of players. Regarding the house advantage, Mini Baccarat typically has a lower commission rate such as 4% on Banker bets, which can provide a slight edge for players compared to standard Baccarat games.
Another notable Baccarat variant is Chemin de Fer, which originated in France. Unlike traditional Baccarat, Chemin de Fer allows players to take turns acting as the banker, leading to a more interactive and engaging gameplay experience. In this variant, players can make strategic decisions such as standing or drawing cards, potentially influencing the outcome of the game. While the house advantage in Chemin de Fer can vary based on the player's decisions, it is generally regarded as one of the more player-friendly variants due to the increased control over the gameplay.
When exploring baccarat game variants it therefore really is crucial to review the specific rules and pay-outs as they can impact the overall house advantage.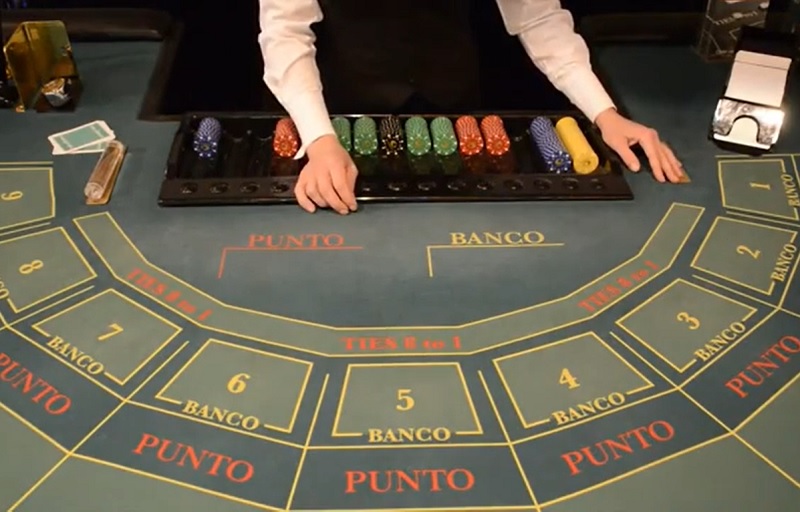 The best casinos to play baccarat
Got in the mood to play baccarat after reading our playing tips? There are dozens of excellent online casinos where you can start playing baccarat right away! Here at Highrollerscasino.com we have made an overview of the best online casinos in Canada. All of these casinos offer a great collection of baccarat games, including live dealer baccarat tables.
Of course, besides baccarat you can also play hundreds of exciting video slots and all kinds of other table games if you are looking for a change.
All the online casinos listed on our website are fully licenced by regulatory authorities in the countries where they are based such as the Alcohol and Gaming Commission of Ontario, the UK Gambling Commission and the Malta Gaming Authority. You can therefore rest assured that these online casinos are all legitimate, offering a safe gambling environment and honest games.
Make sure that you do claim your welcome bonus when you sign up! All these online casinos have some amazing welcome bonus deals for Canadian gamblers. If you live in Canada you can easily get a welcome bonus worth C$1,500. That's a lot of baccarat games you can play with all that bonus money!
Play Baccarat at Lucky Days and Get a $1500 Bonus!
Conclusion
By following our baccarat tips you can potentially improve your odds of winning. It's important to familiarise yourself with the different types of bets and their respective house advantages. The Player bet and Banker bet are the best options, with the Banker bet often considered more favourable despite the commission charge. However, the Tie bet has a significantly higher house edge and is generally not recommended.
You should also be aware that some baccarat games have commission charges for certain bets. Commission rates can differ between baccarat games and tables so do check this out before deciding which table you select. Similarly, check whether there are differences in pay-outs as this can also affect the house advantage.
It can be worthwhile to try out different baccarat variants. For example, a game version like Mini Baccarat have a lower commission rate and are an accessible option for players. Chemin de Fer and Baccarat Banque can also be worth seeking out.
Play Baccarat at Lucky Days and Get a $1500 Bonus!